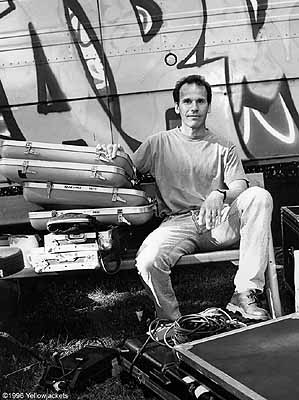 Artist Profile:
Russell Ferrante
Russ's first exposure to music came from his church, where his father was the choir director as well as being a frequent vocal soloist and having a vocal gospel quartet. His father's whole family were music lovers and several of his brothers and sisters had marvelous voices, something Russ admits never got passed on to him.
"I began piano lessons at 9 with the expectation that I'd one day be the church pianist. My musical interests took me elsewhere but my sister who is 2 years younger actually went on to fulfill my parent's dreams and is now directing the music department for a church in Watsonville, CA," Russ says.
Beside his early interest in the piano, Russ also tried other instruments, making the most headway on drums, even going as far as playing drums on a couple of gigs and recording sessions. His experience with the drums has benefited his piano and keyboard playing and composing as a result.
As for musical education, Russ relates the following: "I took piano lessons from a wonderful piano teacher in San Jose, CA named Ann Penner, from age 9-16 or so, nothing fancy, just the basics. I got interested in jazz and pop around the age of 15 and studied that from whatever sources were available, notably scattered lessons with local jazz musicians, jazz theory books that I found or were recommended to me, and listening to my favorite recordings and transcribing songs and solos. Regrettably I never really studied music in school."
Influences
"The first recording I heard that really got me excited about being a musician was "Swiss Movement" by Les McCann and Eddie Harris. I loved the way the musicians combined jazz, R&B, and gospel music. This marriage of jazz and R&B was something I heard a lot around San Jose where I grew up. There was one musician in particular, Clifford Coulter, who greatly inspired me.
"At around the same time, I was introduced to John Coltrane's "My Favorite Things" and various recordings by Miles Davis. I didn't understand that music at all but nonetheless, I immediately loved it! Along with these recordings, I was listening to and drawing inspiration from The Beatles, "Sgt. Pepper's Lonely Heart Club Band" and Joni Mitchell's first album "Clouds"."
Non-Yellowjackets Projects
"I've been privileged to write with and produced records for: Bobby McFerrin, Michael Franks, Sadao Watanabe, Marilyn Scott, Eric Marianthal, and Sergio Salvatore among others. I've also arranged for Take 6, The GRP Big Band, Lee Ritenour, and many others." In addition to working with these fine musicians, Russ is also active in local musical projects of a much smaller scale. One such project was a local production of Really Rosie by children in his community, for which he was the musical director. He's pictured below, with Justo Almario in the Really Rosie band.
Artists Russ Has Performed With
"There are so many, but at the risk of omitting some, I'd say my favorite have been: Jimmy Witherspoon, Jim Pepper, Joe Farrell, Joni Mitchell, Bobby McFerrin, Robben Ford, Marilyn Scott, Ernie Watts, Sadao Watanabe, GRP Big Band, Lee Ritenour, Tom Scott, Take 6, Michael Franks, and Brenda Russell."
Now Spinning
What does Russ listen to? "Everything by John Coltrane, especially "Giant Steps", "Ballads", "A Love Supreme", and "Live at Birdland". Everything by Miles Davis, especially "Kind of Blue", "Milestones", "My Funny Valentine",
"Four and More", "Sketches of Spain", "Miles Smiles", and "Nefertiti". Keith Jarrett, especially "Facing You", "My Song", "Belonging", and all the "standards" recordings. Weather Report, especially "Heavy Weather". Eddie Harris, especially "Listen Here", "Silver Cycles" and "Swiss Movement". Orchestral music by Debussy, Ravel, Stravinsky, Copeland, Bartok, Samual Barber, and much, much more."
Equipment
Russ uses a Steinway & Sons grand piano, Roland 760 sampler, Roland D550 ("yes, I still use that old thing"), Korg 01W, Mackie 1604 mixer and ADAT digital tape deck.
Home Life and Other Interests
"I have been active in the local schools, composing and performing music for school plays, volunteering in the classroom, and speaking at career days and such. I am also an avid bicyclist and an incurable NBA fan, having played one year of basketball at San Jose State Univ. before music really took hold of me.
"Family is my #1 priority, with all the care and feeding that accompanies a 20 year marriage and an 18 year old daughter, not to mention 3 cats and 1 dog, the lovable, mischievous, and incorrigible Dal, Petey."