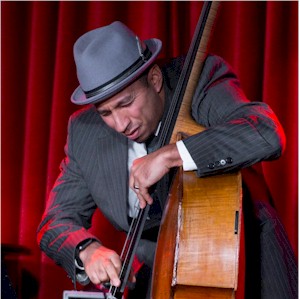 Artist Profile:
Ryan Cross
Ryan Cross is a name that is synonymous with professionalism and musical excellence. Glee, Friends, ER, The West Wing, Studio 60, Cold Case, Along Came Polly and Poseidon are just a few of the television and film productions that have benefited from his expertise.
Ryan Cross is a rare find in that his administrative skills strongly rival his musical talent. Ryan's passion for music was birthed at the tender age of 8 when he began to study classical cello. At the age of 16, he discovered the acoustic bass and seized the opportunity to study under Ray Brown, one of the most well-known and prolific bass players of our time.
Born and raised in Seattle, Washington, Ryan moved to Los Angeles, California when he received a full scholarship to attend the University of Southern California where he studied under John Clayton. He graduated in 1999 with a Bachelor of Music in Jazz Studies and his career immediately took flight.
He has appeared and recorded on over 35 TV shows and movies to date. Due to his high level of proficiency in all styles of music, Ryan is able to readily adapt his live
performance skills to the studio-recording environment on a moment's notice. His reputation has also afforded him the ability to consistently build and maintain a network of highly sought-after musicians who have respect for his leadership and talent. This has helped him become a polished film composer of award winning films.
Ryan served as the contractor for Alicia Keys' CD release, "As I Am", on which he contracted twenty-five musicians and personally recorded bass and cello tracks. He has also graced the recording studio and stage with Stevie Wonder, Jill Scott, John Legend, Gladys Knight, Chaka Khan, Ciara, P-Diddy and Rihanna.
Ryan produces live shows weekly at the world renown Biltmore Hotel, Harvelle's and The Hotel Angeleno where he features the world's top jazz musicians and vocalists. This is an environment that allows him to continually keep his skills sharp and his eyes open for new talent as well as undiscovered seasoned professionals. Ryan plays a strong advocacy role in the preservation and implementation of music in school. For several years, he has maintained a strong relationship with the Pasadena Jazz Institute and has gone out to many schools in the Los Angeles' Unified School District to spark the interest of children to play classical instruments.
Most recently, Ryan founded the Elevation Orchestra, a 17-piece multicultural string orchestra with piano, bass and drums. The orchestra's inaugural performance took place on February 1, 2009 at the California African American Museum. The Elevation Orchestra strives to work closely with children and parents in the urban community to elevate their knowledge of culture, history and art by playing concerts all over the country in schools, churches, museums and symphony halls. Ryan Cross is a well-rounded musician who has perfected the art of multi-tasking without compromising the quality of his work. He is consistent, reliable and committed to giving nothing less that the best. From the stage to the studio to the community-at-large, Ryan Cross is a gifted individual who leaves an unforgettable mark of musical notes daily.