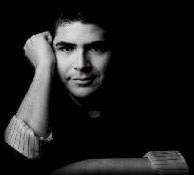 Otmaro Ruiz
Born in Caracas, Venezuela, June 27th. of 1964. Otmaro Ruiz started his musical studies at the age of eight at the "Juan Manuel Olivares" Conservatory, where he covered academic classes (theory, harmony, ear training, history & aesthetics, analysis) and eight years of Classical Guitar.
At the same time he studied Pop and Classical Organ, he pursued a Scientific career as a Biologist at the "Simón Bolívar University." He was also exposed to other artistic activities such as drawing and acting. In 1980 Otmaro got his first professional jobs as a keyboard player for "Top forty" bands and three years later he decided to focus entirely on music, abandoning Biological Sciences a couple of years away from getting his degree. It was in 1983 that Otmaro Ruíz became part of the very elite Recording and Touring musicians working with the most prominent Venezuelan
artists and International Jazz and Pop artists visiting his country (check Artist List at the bottom).
In 1986, in conjunction with his performing career, Otmaro joined one of the most important TV & Radio Jingle production companies, "Musica & Letra", which would become a very important ingredient in his development as a composer, arranger and producer. His association with the company lasted for three years. Three years of DAILY recordings, until Otmaro decided it was time to move on and set new professional goals.
In 1989, with partial financial aid from the Ministry of Culture (CONAC), he moved to Los Angeles, California, where he culminated his academic training at the California Institute of the Arts (CALARTS), obtaining a Masters Degree in Jazz Performance (1993).
While at CALARTS, Otmaro had the opportunity to perform and interact with many visiting artists. However, it was his association with Alex Acuña that introduced him to the very select circle of musicians in Los Angeles. Since 1991, Otmaro Ruíz has been part of the most diverse musical situations, always of the greatest quality (check Artist List at the bottom), ranging from straight-ahead jazz to Pop-Rock, from authentic Salsa & Afro-Cuban to the most exciting Fusion. He always keeps versatility as his main focus, not as a financial strategy, but out of the true love and respect he feels for all styles of music to which he has been exposed.
John McLaughlin, Steve Winwood, Tito Puente, Arturo Sandoval, Gino Vannelli, Robbie Robertson, Dianne Reeves, LA Philharmonic, Herb Alpert, Jon Anderson, Alex Acuna, David Weckl, Frank Gambale, Art Davis, Alain Caron, Frank Morgan, Ralph Moore, Boney James, Charlie Haden, Joey Heredia, Nana Caymmi, Munyungo Jackson, Chester Thompson, Justo Almario, Billy Higgins, Vicky Carr, Nat Adderley, Bunny Brunnell, Juan Carlos Quintero, Luis Bonilla, etc.