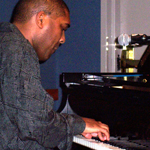 Artist Profile:
Osmany Paredes
Osmany Paredes González is a pianist, composer and arranger whose style blends jazz with his Afro-Cuban rhythmic heritage by using a technique derived from years of classical education. Born in Santa Clara, Cuba, his father began Osmany's musical education at the age of five. Guillermo Paredes, percussionist with the Santa Clara Orquesta de Música Moderna, was his first teacher and primary influence.
At the age of eight, Osmany started his formal education in classical piano at the Olga Alonso School of Vocational Arts in Santa Clara, Cuba. He continued these studies at the esteemed National School of Music in Havana and graduated with honors in 1991.
While still in school Osmany played with many groups in Cuba including the charanga group Orquesta América. This group provided him with his first tour outside of Cuba when they went to Venezuela. After graduation he joined the jazz group of Bobby Carcassés and later the charanga group Orquesta Enrique Jorrín. These three groups gave him an invaluable education in Cuban music, jazz, and performance. After moving to Mexico in 1992, he played with various artists and groups including Israel "Cachao" Lopez, Jerry González, elio González, Diego alias "El Cigala", and "Patato" Valdés, Fellove Valdes among others.
Osmany has appeared at the renowned Havana Jazz Plaza Festival, the Caracas and Trujillo Jazz Festivals, Venezuela; Acapulco International Jazz Festival, Theatre of Fine Arts, the Centro Historico International Festival; International Festival Tribute to Agustin Lara (2001) as the producer, musical director, arranger and pianist; Veracruz International Caribbean Festival the Cervantino International Festival, Mexico; and he has also participated in other festivals in Austria, Germany, and Colombia. He appeared on a number Mexican television shows performing with his group Menduvia, Antonio Sanchez, the Art 01 big band, and Celio González.
January 1998 was the year that Osmany became musical director, composer and arranger of his group Menduvia. He recorded his first CD of Latin Jazz in Mexico entitled "Osmany Paredes con Menduvia", under the Fonosound/Universal Music Latino label. This cd has now been distributed in the United States and Puerto Rico. He also recorded with Eugenia Leon, Jorge Luke, Joey Altruda, Francisco "Fellove" Valdes, Molotov, "Chocolate" Armenteros, Orquesta Enrique Jorrin, Celio González, and Amaury Gutierrez.
Since his arrival in the United States in 2003, Osmany Paredes has been featured in many well-known clubs; and he has performed or recorded with David Murray, Richard Bona, Giovanni Hidalgo, and Dave Samuels, among others. He has also appeared at the Zinc Bar in New York City, the Kimmel Center in Philadelphia, the Freihofer Jazz Festival in Saratoga Springs, the Berklee Performance Center in Boston, the San Jose Jazz Festival, the San Francisco Jazz Festival, the Jazz Bakery in Los Angeles, and the Earshot Jazz Festival in Seattle.