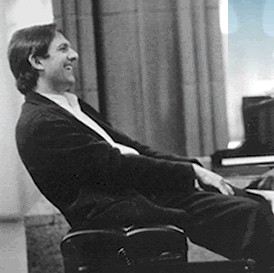 Artist Profile:
Alan Pasqua
Born in New Jersey, Alan Pasqua began studying piano at the age of seven, playing both classical and jazz. He attended Indiana University, and received his Bachelors Degree in Jazz Studies from the New England Conservatory.
His teachers at the time were Jaki Byard, Thad Jones, George Russell, David Baker and Gunther Schuller. While performing a concert at Carnegie Hall, Alan met the legendary drummer Tony Williams. Pasqua was asked to join "The New Tony Williams Lifetime" along with guitarist Allan Holdsworth. After recording two "Lifetime " albums for Columbia Records, Alan relocated in Los Angeles.
His career in L.A. broadened, as he started playing with more rock and pop artists. First, he joined Eddie Money's band. Then he garnered a coveted spot In Bob Dylan's band, and ultimately joined the band "Santana". His other album and touring credits include: Pat Benatar, Joe Cocker, Ry Cooder, John Fogerty, Aretha Franklin, Sammy Hagar, Al Jarreau, Graham Nash, Bob Seger, Rick Springfield, Rod Stewart, The Temptations, Joe Walsh, Dionne, Warwick and Phil Spector among others. In the late Eighties, Alan teamed up with guitarist Dann Huff to form the rock band "Giant".  Their debut recording, "Last of The Runaways", on A&M Records, contained several songs written by Alan, including the hit single, "I'll See You In My Dreams." In addition, Alan has worked with composers, John Williams, Quincy Jones, Dave Grusin, Jerry Goldsmith, Henry Mancini and Maurice Jarre on motion picture soundtracks. He is recognized as the co-composer of the "CBS Evening News Theme", which has been airing nightly since 1987.
Also, Alan composed the soundtrack for Disney's hit movie, "The Waterboy", starring Adam Sandler.
Alan is no stranger to the jazz world, and is a highly regarded pianist and composer. His two CD releases, "Milagro" and "Dedications" on the Postcards Label hit the top of the jazz charts. All-stars Jack Dejohnette, Paul Motion, Dave Holland, Michael Brecker and Randy Brecker are featured on these recordings. In addition, Pasqua has played and recorded with the likes of Joe Henderson, Stanley Clarke, Gary Burton, James Moody, Gary Peacock, Gary Bartz, Eddie Daniels, Dave Weckl, Tom Scott, Peter Erskine, John Patitucci, Reggie Workman, The Thad Jones/Mel Lewis Jazz Orchestra, Sam Rivers, Sheila Jordan, Joe Williams, Ivan Lins, Frank Foster, Alphonso Johnson, Narada Michael Walden, Les McCann, Stan Kenton, and Don Ellis.
Alan currently co-leads a trio with the legendary drummer Peter Erskine. The trio has released "Live At Rocco" and "Badlands", both on the Fuzzy Music label. Both recordings have received critical acclaim.  Alan is also known for his contribution to jazz education.