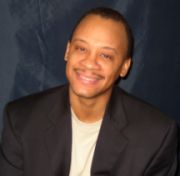 Artist Profile:
Nick Smith
In 1981, during the encore of their show at the Front Row in Cleveland, George Duke and Stanley Clarke, as was their custom, called for musicians in the audience to come onstage and play with them. A youngster on keyboards put on a display that dazzled everyone, including the two stars. Under the headline "SENSATIONAL UNKNOWN MUSICIAN FOUND", a Cleveland newspaper reported on the nineteen year old who "stole the show."
Nick Smith has since gone on to become a cornerstone in Stanley Clarke's band since the early 90's, and today is acknowledged as one of the jazz world's great young keyboard players.
Nick has played with Kenny Garrett, Kirk Whalum, Eddie Harris, Dianne Reeves, Ronnie Laws, Gary Bartz, Donald Byrd, Eric Benet, Billy Higgins, George Howard, Rayford Griffin, and many more..
A former member of the Tonight Show band, Nick wrote and co-produced Najee's "Morning Tenderness" in 1998, has composed music for many feature films including Disney's "The Color of Friendship", and has scored for TV, including the series "Soulfood."
His current CD release is entitled, "A Taste of Jazz."