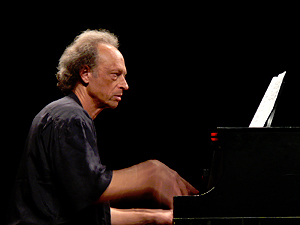 Artist Profile:
Larry Karush
Instrumental virtuosity, imaginative improvisation, and a global view of music has enabled Los Angeles-based pianist and composer Larry Karush to balance Westernized jazz and world music. A frequent collaborator of percussionist Glen Valez and bassist Glen Moore of world fusion ensemble Oregon, Karush has incorporated Indian, African, and Brazilian into his improvisations. While his performances reflect deep thinking, an emotional soulfulness is equally expressed. According to Audiophile Audition, "[Karush's] style is cerebral but with guts and emotion."
While his parents listened to a wide range of music, neither was musically inclined. Sent for classical piano lessons at the age of six, Karush was discouraged from
improvising. A turning point in his musical evolution came when he began to study with L.A.-based music teacher Steve Saxe. During a March 2000 interview, Karush recalled, "[Saxe] was my first teacher to see music as a continuum. He taught me about boogie-woogie and jazz."
Karush initially gave little thought to a career in music. As an undergraduate student at Reed College in Portland, OR, he majored in psychology. The school, however, provided the setting for meeting Glen Moore. Inspired by their friendship, Karush spent several years studying music with private teachers. He eventually earned a master's degree in musical performance from New York University. Karush's recording debut came on May 24, 1976, as a collaboration with Moore. The same year, he performed on Steve Reich's groundbreaking avant-garde album, Music for 18 Musicians. He subsequently played piano on albums by John Abercrombie and Jane Ira Bloom.
Karush joined with Moore and Velez to form an improvisational trio, Mokave. Their self-titled debut album was released in 1991. In the years since, he's continued to balance albums with the trio and solo recordings. He currently tours with his own band, the Larry Karush Ensemble, featuring Dave Carpenter (bass), Kendall Key (drums), and Joey DeLeon (percussion).