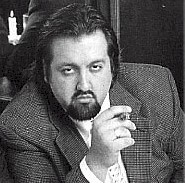 Artist Profile:
Joey DeFrancesco
The global jazz community has credited Joey DeFrancesco and his recordings from the late 1980s and early 1990s as the singular sensation for rekindling a love for the Hammond B-3 organ. But the wunderkind turned legend didn't simply catch his break when he performed with Miles Davis as a teenager; the organist has patterned his career after the trumpeter's example of constantly pushing the creative envelope and bringing together new and disparate cohorts.
On the 2002 Concord Records release, Ballads and Blues, his sidemen included guitarist Pat Martino and saxophonist Gary Bartz. The all-star guest list keeps growing on Falling in Love Again (CCD-2160-2), with Martino, tenorman Red Holloway, drummer Jeff Hamilton (complementing DeFrancesco's core trio member Byron Landham), and NBC's Tonight
Show bandleader Kevin Eubanks. Listeners of this new CD, Joey's fifth for Concord Records, will also be falling in love with a lesser-known East Coast jazz singer named Joe Doggs, whose soulful vocals and fresh arrangements are at the swinging heart of the collection's eleven cherished standards.
While DeFrancesco has peppered his recordings over the years with a handful of vocals he has sung himself, Falling in Love Again marks the first time he's built an entire CD around the talents of a guest vocalist. "I've known and loved Joe as a performer and friend since I was a kid, and I've wanted to do a project with him for a long time," DeFrancesco explains. "He's a Jersey born gentleman who sings in the soulful style of his idol Jimmy Scott, and he's been a big deal on the East Coast, in Philly, New York and Atlantic City for years."
"I'm glad that my records have made people excited about the organ, and the best part of all this has been playing with so many great artists, being on the road and sharing the love for what I do with audiences who really get it," he says. "I love bringing people in and making them happy. I think I've been able to keep a level head about everything because I'm always focused on the music first, and on the many ideas I have for every subsequent project. Sometimes, I'm just amazed by all this, and there are always great moments which remind me why I enjoy it so much." Falling in Love Again is one of those moments.