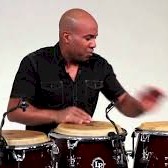 Artist Profile:
Joey De Leon
Percussionist and drummer Joseph "Joey" De Leon Jr. was born New York City. He holds a Bachelors Degree in Classical Percussion from the prestigious Manhattan School Of Music in which upon graduation, was given the school's Most Outstanding Musicianship Award.
He moved to LA in the early 90's, started playing with the late Francisco Aguabella and gradually move up in the ranks, getting an opportunity to play alongside one of his idols, Alex Acuña in the band Tolu. He has performed or recorded with such luminaries as Arturo Sandoval, Kevin Eubanks, Dean Brown, Robbie Williams, Al McKay(EWF Fame), Strunz and Farah, Spanish Harlem Orch., international artists Joan Sebastian and Juan Gabriel, Bill Cunliffe, Chante Moore, Al Jarreau, Queen Latifah, among many many others.
Joseph "Joey" De Leon Jr. Currently, he is performing with Grammy winner Poncho Sanchez and Gordon Goodwin's Big Phat Band and is co musical director for Lucky 7 Mambo, a seven piece dance music band.