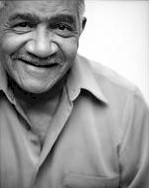 Artist Profile:
Hugh Peanuts Whalum
Although Hugh Peanuts Whalum is a fixture in the city that gave birth to the blues, St. Louis, this gracious gentleman was born in Memphis. A few years ago, he says with a laugh. I began playing violin when I was eight. I had six lessons, which is all the formal musical training I ever had. From the violin, he moved on to the cornet and a spot in the YMCA band. He and his three brothers were also an in-demand quartet in Memphis and the surrounding areas, where they opened for their father, a well-respected orator and lecturer. Peanuts continued on trumpet through his third year in college, when one of the tenor saxes in the swing band finished college and there was no one to take his place, so I started goofing around with tenor saxophone and that turned out to be the calling, if you will.
As a member of the Central State Collegians, he played Carnegie Hall, sharing the stage with Woody Herman, Billy Eckstine, Peggy Lee and Ella Fitzgerald. He and his college cohorts (including the renowned Frank Foster) were called in on a gig in Dayton, Ohio, when the band that was hired to back Billy Eckstine cancelled. Eckstine was so impressed that when he played Indianapolis, Peanuts and company were brought in once again. On this particular night, Peanuts recalls, Jazz At The Philharmonic was in town So look who's coming to see Eckstine, but Ella Fitzgerald, Lester Young, Howard McGee, etc. They sat in, so I played with young and McGee and behind Ella.
Following graduation (with a degree in chemistry), he toured with the Lionel Hampton Band on tenor sax, ultimately relocating to St. Louis, playing solo piano at hotels, theatres and clubs around the city, gigging on sax with the likes of Miles Davis and Ed Thigpen when they came to town. I have a picture with Miles and Ed, Peanuts chuckles. Were wearing Zoot suits. In the 50s, as part of the Jeeter-Pillars band, Peanuts played behind Nat King Cole and his trio. Whenever Nat would come on and be announced, Ladies and Gentlemen, Nat King Cole, the first thing Nat would say is, Id like to introduce you to my friend. He'd call me out of the band to come and play with him. So every song he played, I played with him that didn't strike me then, but jeez, I think about it now, and say Whoa, was that me? Was that really me?
It may be hard for Peanuts to believe, but for anyone listening to the musical magic on Hugh Peanuts Whalum, it makes perfect sense.
Although long known for his distinction on tenor saxophone, vocals finally took center stage for Peanuts when a club he was playing couldn't afford a trio during Lent, as business would fall off in a highly Catholic part of the city. Peanuts volunteered to do a solo gig, singing and playing the piano. You've never seen me scuffle like that. That week I went to work. I couldn't play anything, but I could sing and when someone would request a song, Id try to find something complementary, key-wise, on the piano. Id sit there and play, laughing. Do you know business picked up business picked up during Lent.
With Hugh Peanuts Whalum, business is bound to pick up again. Romantic and elegant, Peanuts and his velvet voice imbue every lyric with added meaning and subtlety. His choice of material is impeccable. Covers of songs like the Elvis perennial, I Cant Help Falling, and Frank Sinatra's Why Try To Change Me Now find perfect balance alongside Sammy Cahn's rarely recorded lyrical gem Its Always Four A.M. (music by Ron Anthony). The latter becomes one of the most evocative and atmospheric songs in memory, making it hard to imagine that anyone but Peanuts could match the songs bittersweet eloquence. Producer Kirk Whalum says, Its the kind of lyric that's so magical, so carefully thought out. It tells a story, has depth such a great twist of imagination to say, When you're all alone, its always four a.m.