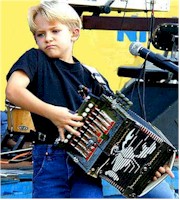 Artist Profile:
Hunter Hayes
Meet Hunter Hayes, a blonde-haired, blue-eyed eleven year old from Breaux Bridge, Louisiana. Hunter loves to play his accordion and to sing Cajun French songs. He has always enjoyed music preferably fast French accordion music.
When Hunter was two years old, he began entertaining audiences by playing his accordion and tapping his foot to the beat. At two and a half he was singing Cajun French songs with a local band. Just before his third birthday, Hunter performed for the "Le Cajun" Awards for the Cajun French Music Association (CFMA) at the Blackham Coliseum in Lafayette, Louisiana. By the age of three, he had appeared in three local commercials, and entertained hundreds of music lovers across Southern Louisiana and Texas.
At the age of four, Hunter appeared on the nationally televised TBS special called "Roots of Country", where he is shown singing with Jo-El Sonnier. He also appeared in the music video "Fais-Do-Do" with Jo-El Sonnier and Eddy Raven shown on the CMT Network.
Shortly after his fifth birthday, Hunter released his first Cajun Music recording (recorded at the age of four). He continued to entertain music lovers across the United States through television, radio, newspapers and even magazines. Hunter became interested in acting after he completed taping for a part in the movie "The Apostle" with Robert Duvall. He appeared and performed on the Nashville Network's Primetime Country during Kid's and Family week. During Country Fest '97 he performed at the Texas Motor Speedway with Hank Williams Jr.. He also appeared and performed on FOX After Breakfast with Vicki Lawerence and was featured on CNN Headline News.
After his sixth birthday, he performed on the Rosie O'Donnell Show and was featured in People Magazine. He worked with both Robert Urich and Ed Lover shooting pilot shows for each. Later he received "The Best New Cajun Band or Performer" Award presented by Offbeat Magazin
e. Hunter was a guest on the "LIVE" with Regis and Kathy Lee show, where he and his band performed as the house band for the entire show. He was also a contestant on the Nickelodeon game show "FIGURE-IT-OUT" and a guest on the TNN special "The Oak Ridge Boys Live in Las Vegas". He performed in Calgary, Alberta, Canada for the Calgary Stampede Grandstand Show.
At the age of eight, Hunter performed in Italy for Bravo Bravissimo (an Italian show featuring children from various countries). He was also a guest on the "Maury Show" and was featured on the cover of Trans Western Publishing Company's Lafayette Regional Telephone Book. Hunter and his band (Louisiana H.O.T.) performed at the White House for the Congressional Picnic. He was featured in the Louisiana Tourism print ad and commercial as well as the National Geographic World book (Sept. 1999 issue). Hunter released his second CD which contains two original songs written by Hunter. He enjoys songwriting and is continuously working on songs for his next CD.
Shortly before the age of nine, Hunter and his band performed for the National Democratic Party in Washington, D.C.. Now at the age of nine, he has performed for the NOKIA Sugar Bowl halftime show and continues to perform across Louisiana and the U.S. with his band called "Louisiana H.O.T.". He has performed at the world famous Liberty Theatre in Eunice, Louisiana. Hunter has made appearances with some of the finest musicians in Cajun French music as well as Country music, such as; Wayne Toups, Steve Riley, The Lil' Cajun Band, Karlo et amis, Jambayla, The Basin Brothers, Belton Richard, Lee Benoit, Richard LeBouef and Two Step, Joe Douglas, Blackie Forestier, Mark Wills, Kenny Chesney, Charlie Daniels, Brad Paisley, Jo-El Sonnier, Lee Roy Parnell, Eddy Raven, Hank Williams, Jr., Branscombe Richmond, Glenn Jacquneaux, Waylon Thibodeaux and more. Hunter Hayes is the son of Leo and Lynette Hayes.
ddy Raven, Hank Williams, Jr., Branscombe Richmond, Glenn Jacquneaux, Waylon Thibodeaux and more. Hunter Hayes is the son of Leo and Lynette Hayes.