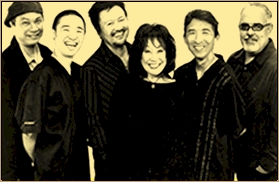 Artist Profile:
Hiroshima
Since galvanizing the instrumental music world with its unique East meets West approach in the late 70s, Hiroshima has always kept its eye on a distinctive One World philosophy which seamlessly blends Asian and North American culture to reflect both cultural and spiritual connections. This year marks 20 years since the band's unique combination of distinctively Japanese elements-June Kuramoto's classical flavored koto, Johnny Mori's booming taiko drum-with funky pop, urban and jazz sensibilities first hit the instrumental music charts, and 25 years since saxophonist and East L.A. native Dan Kuramoto, along with June, first formed the ensemble.
Their Windham Hill Jazz debut (and eleventh release overall) Between Black and White finds them once again blending contemporary root music, mystical Eastern exotica and melodically rich smooth jazz which further deepens their larger commitment to global unity on the cusp of the new millennium.
"We've always stood apart from other instrumental groups of our time by taking the graceful classical sound of the koto and experimenting with varying American musical idioms around that," says Dan Kuramoto, Hiroshima's leader and producer. "We create musically a cross-commentary about a multitude of cultures that comes from our backgrounds as Asian Americans growing up in a racially diverse America. The album title grew from the idea that as people of Japanese heritage, we are ethnically in the middle of black and white, drawing from the traditions of both races yet also creating an identity that is unique to our heritage.
"Between Black and White is not only a natural reflection about being in the middle, it's also a perfect metaphor for the subtleties of grays in every day life, moderation and balance summed up in the Yin and Yang ideas of Eastern philosophy," he adds.
Motivated by a mutual commitment to a singular artistic vision and free under their new Windham Hill deal to focus on the music they want to make, Hiroshima once again dares to push the envelope and engage diversity from track to track. The mix of dreamy koto and keyboard mysticism and thick hip hop grooves and soulful sax on "Mix Plate" sets the tone for the whole project; the song's title is another metaphorical reference, literally the name of a Hawaiian sampler feast and figuratively, as Kuramoto puts it, "a glorious cultural mishmash." The hypnotic, contemporary ballad "Dreams" sways with a simple tapestry of ancient sounds-June Kuramoto's familiar koto as lead melody and guest musician Karen Hwa-chee Han playing a delicate harmony line on the Er-hu, a Chinese violin whose origin dates back 5,000 years. Hiroshima has worked with some great vocalists over the years, and Terry Steele-who wrote Luther Vandross' signature smash "Here and Now"-adds to the litany with his cool, romantic approach to "The Door Is Open."
The multi-dimensional "Joe Jazz" is a five minute musical history lesson, featuring instrumentation layers which draw from various eras of jazz-from electric guitarist Fred Shreuders' Wes Montgomery like melodic lines (blended with the koto) to Dan Kuramoto's best Coleman Hawkins sax impressions. Keyboardist Kimo Cornwell infuses his seductive Hammond B-3 blues energy into the retro-soul grooves of "Sup Pose," while "Picasso's Dance" further expands the band's global reach by mixing June's unique flamenco stylings on the koto melody with Schreuders' brash guitar lines with dramatic orchestral swells and booming taiko. Dan Kuramoto plays the native Japanese flute, shakuhachi, on the moving lullaby "After The Rain," a song influenced by a visit to a temple dedicated to 'lost children,' during the band's Japan tour in 1998. Featuring stunning rainforest soundscaping with guest harmonica player Hammer Smith adding a floating harmony behind the koto melody. Written as part of the score for the opening exhibit of the spectacular Japanese American National Museum, "Things Unsaid" entices with the subtleties of June's koto weaving with hypnotic string voicings and leading to a koto tour de force. Another global harmony tune, "Circle of Friends," blends Cornwell's jazzy piano melody with the koto and a percussion scheme that is part organic, part machine generated hip-hop. The vibrant, Johnny Mori-led live percussion jam "Omo Tai" is sandwiched between the album's final two tunes, the sensual "World of Dreams" (with the vibes solo of guest star Vince Charles) and the jumpy salsa jam "Sol Cruz," which features latin percussion stars, Richie Garcia and Luis Conte.
Formed by Dan Kuramoto and June Kuramoto (the only Japan native in the band, and one of the world's leading koto players), Hiroshima became a thriving and pioneering instrumental ensemble with the addition of master taiko drummer Johnny Mori and drummer/percussionist Danny Yamamoto. In a career spanning more than two decades, Hiroshima has performed for hundreds of thousands, while their extensive catalog of albums have sold over 3 million copies worldwide.
The band's recording career began in 1979 with a self-titled Arista debut (which spawned the R&B hit "Roomful of Mirrors"), and their popularity grew with the release of Odori (1980) and a grammy nomination, Third Generation (1983, their Epic debut); Another Place (1985), their first gold record, which featured the smash hit, "One Wish"; Go (1987), which topped Billboard's Contemporary Jazz Chart for three months and earned the band a Soul Train Award for Best Jazz Album; East (1989), which contained sections from "Sansei", the critically acclaimed musical drama created and performed by Hiroshima, which became the third highest grossing show in the history of the Los Angeles Music Center's, Mark Taper Forum (currently being updated for a re-mounting ); the brilliant Providence (1992), which explored themes of humanity; Hiroshima L.A. (1994), which launched a two record association with Quincy Jones' Qwest label after Jones asked the band to perform at the Montreux Jazz Festival; and 1997's Urban World Music. The title of this final album before Between Black and White perfectly captures the multi-faceted feel of their music as it has evolved over the years.
Aside from touring with such greats over the years as Miles Davis, Hiroshima's members have engaged in some interesting side projects between recording and traveling dates. Dan, June and Johnny Mori have played on numerous soundtracks together, including those for "Black Rain" and the Oscar nominated "The Thin Red Line," while Kimo Cornwell has produced and played with top Hawaiian artists, including Randy Lorenzo. In all, emmy winner, Dan Kuramoto has scored over 50 plays, films and TV shows including the Showtime miniseries, "Home Fires," "Bean Sprouts" and the Oscar nominated "The Silence." He also served as the musical arranger for the L.A. and New York productions of the play/musical, "Zoot Suit." June Kuramoto was trained on koto by Madame Kazue Kudo, herself a protégé of Japan's most famed kotoist and composer, Michio Miyagi. She's played on countless recordings (including the #1 hit record, "Sukiyaki" by Taste of Honey), films, television and concert performances with artists like Ravi Shankar.
"We've been so blessed to have such a great chemistry and this amazing level of commitment and growth over the years," says Dan Kuramoto. "We're always looking for the next level, to keep our music fresh and exciting, both for ourselves and our fans. Our desire with 'Between Black and White' is to intrigue listeners new to the Hiroshima experience, and after 20 years, show our loyal fans that we are not just still around– we get better. We always try to make an album that begs to be listened to from start to finish, its songs creating an internal arc and specific journey."
Between Black and White is just that, a journey by a band featuring some of the world's finest world beat and jazz musicians, to places both foreign and domestic, exotic and down home. It's East West relations at their finest, a magical look at both sides of the Pacific RimŠand above all, reaffirmation of Hiroshima as one of instrumental music's most innovative, dynamic and spiritual global acts.