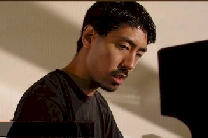 Artist Profile:
Gary Fukushima
Gary Fukushima, a native of Seattle, Washington, started formal piano lessons at the late age of eleven, making up for lost time by winning awards in local piano competitions and eventually graduating from the University of Washington with degrees in classical piano, jazz studies, and psychology under the tutelage of pianists Marc Seales, director of the UW Jazz Studies Program, and Robin McCabe, the director of the UW School of Music.
Upon graduation, he accepted a faculty position with Pacific Lutheran University in Tacoma, WA, where he taught jazz piano, and he also was a prominent member of the jazz-folk group The Sabella Consort, with tours throughout the country over the course of nearly a decade.
In 1999, Gary served as musical director for the Northwest Asian American Theater's acclaimed production of West Side Story, the first such production ever attempted with a cast of mostly Asian American actors.
In 2003 Gary relocated to Southern California to continue graduate studies with pianist and arranger David Roitstein, trumpeter and composer Wadada Leo Smith, and the legendary bassist Charlie Haden at California Institute of the Arts, during which time he was awarded a rare scholarship by the Los Angeles Chapter of the National Academy of Recording Arts and Sciences (NARAS) and invited exclusively to perform at the Academy's annual membership luncheon.
Gary recently received a Master of Fine Arts degree from CalArts and immediately accepted teaching positions at two local colleges, California State University, Los Angeles, and California State University, Northridge.
In addition to his college teaching work and maintaining a small private lessons studio, Gary is becoming increasingly active in the local Los Angeles jazz scene, recording and playing with many esteemed performers including Joe LaBarbara, Larry Koonse, Renee Olstead, Matt Otto, Darek Oles, John Daversa, Doug Webb, and Gary Pratt among others.