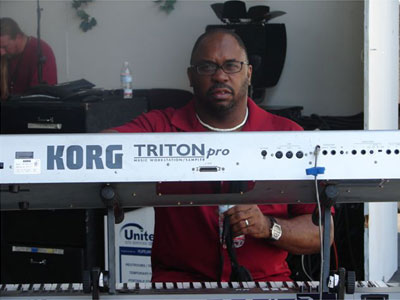 Artist Profile:
Donald Vega
Donald Vega's style and virtuosity on piano, along with his composing and arranging, mark this young artist as a unique and exciting presence in the world of jazz.
Vega's synthesis of traditional jazz and blues with Latin rhythms and colors creates an innovative voice that is changing the landscape of American music in a profound and delightful manner. Donald Vega came to the United States from Nicaragua at the age of fifteen without speaking a word of English and suffering health problems that threatened his hearing and his musical future. Poverty-stricken,
Vega practiced on a makeshift cardboard piano and within a year won the prestigious Los Angeles Spotlight Awards competition capturing the attention of Henry Mancini and the renowned jazz critic, Leonard Feather. David Abel of Fine Pianos, at the request of Walter Grumman and Barbara Haig, donated a piano to replace the now legendary piece of cardboard Mastering English as quickly as the keyboard, Vega began studying at The Colburn School of Performing Arts (where he now teaches part-time), graduated from high school, and went on to earn a B.A. degree in Jazz Studies from the University of Southern California in 1999.
Along the way, he won the LA Jazz Societys New Talent Award and was runner-up in the Great American Jazz Piano Competition, a national competition. In addition, Donald went through a number of critical surgeries to restore his health and save his hearing. Vega has performed with a long-list of jazz legends including: Al McKibbon, Poncho Sanchez, Milt Jackson, John Clayton, Jeff Hamilton, Bennie Wallace, Billy Higgins, Reggie Workman, Luis Conte, Alex Acua, Anthony Wilson, Francisco Aguabella and countless others. Vega has recorded with Aguabella ("Ochimini", 2004; "Agua de Cuba", 1999; and "Cubacan", 2002). Donald has also recorded with Al McKibbon, ("Black Orchid", 2003), Poncho Sanchez, ("Ochimini", 2004), Anthony Wilson ("Adult Themes", 1999) and Jazz on the Latin Side All-Stars ("The Last Bullfighter" 2004).
Vega frequents all the top jazz night clubs in the Los Angeles area including the Catalina Bar and Grill, La Ve Lee, Sapazios, Steamers Caf, Vibrato Grill & Jazz, Hollywood Park Casino and Ciudad. He has also appeared at larger venues like the Hollywood Bowl, Kodak Theatre, Universal Amphitheatre, Music Center, Grand Performances at the California Plaza, Getty Museum, Shrine Auditorium, Wiltern Theatre and the Greek Theatre.
Donald Vega has performed throughout Europe, Latin America and the United States; including major jazz festivals such as the Playboy Jazz Festival, Berlin Jazz Festival, Watts Towers Jazz Festival and the Central Avenue Jazz Festival. Donald Vega's performing, composing, and arranging pays tribute to the giants on whose shoulders he stands, while stretching his own expression into uncharted realms.
His ballads touch the heart without employing sentimentality; while his velocity of swing reminds us that dance is at the heart of jazz. Donalds spiritual clarity provides a healing balm of grace while teaching us that that life is more than what the eye can see. The music of Donald Vega exemplifies the importance of affirmative culture in providing each of us with the resources of the mind and soul which are needed in confronting the complexities and challenges of modern life.