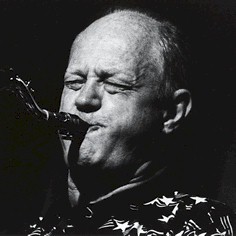 Artist Profile:
Don Menza
Our show with Don Menza was recorded at Charlie O's in Van Nuys. Playing with Don are John Heard on bass, Roy McCurdy on drums and Chuck Wagonner on guitar.
Don Menza is a powerful tenor saxophonist who, although able to effectively imitate most of the top stylists (from Coleman Hawkins to John Coltrane), has a distinctive sound of his own.
Menza started playing tenor when he was 13. After getting out of the Army, he was with Maynard Ferguson's Orchestra
(1960-1962) as both a soloist and an arranger. A short stint with Stan Kenton and a year leading a quintet in Buffalo preceded a period living in Germany (1964-1968). After returning to the U.S., he was with Buddy Rich's big band in 1968, recording a famous solo on "Channel One Suite" that utilized circular breathing and was quite classic.
He settled in California and has worked with Elvin Jones (1969), Louie Bellson, as an educator, and in the studios. Don Menza, who has made far too few records, recorded as a leader for Saba (1965) in Germany, Discwasher (1979), Realtime, and Palo Alto (the latter two in 1981).
Apparently Don decided to 'retire' at the end of 2003, and he actually sold his horns. Don doesn't do anything halfway, and we are hoping that he will have a change of heart as he is truly a legendary tenor player that deserves to be heard. Fortunately, Don's 'retirement' was short-lived and he is once again playing some of the most exciting an inspired music of his career.