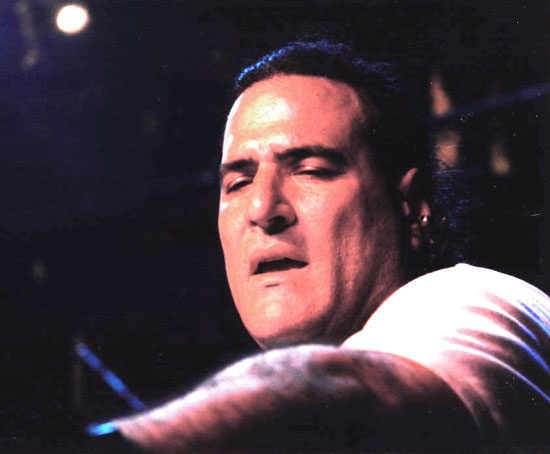 Artist Profile:
David Garfield
Garfield has one of those who's who, what's what resumes that begs the question, what HASN'T he done? Over the span of his career, he's scored and recorded for films ("Annie," "Always" with J.D. Souther), Television ("Fame" and its five accompanying "Kids from Fame" recordings), and commercials (Coca Cola, McDonald's, Seven Up).
He's produced 25 albums and appeared on close to 80, with such artists as Cher, Boz Scaggs, Larry Carlton, Spinal Tap, The Manhattan Transfer, Keiko Matsui and The Rippingtons); toured with Earl Klugh, Michael McDonald, Nancy Wilson, Oleta Adams/Luther Vandross, and Brenda Russell, and was musical director for George Benson (from 1986-90) and Dianne Reeves; appeared on The Tonight Show, Arsenio Hall and Solid Gold; and has composed and recorded over 100 original compositions.
As if that array of challenges weren't enough to satisfy his creative urges, Garfield has led several popular bands rock/jazz/funk/world beat fusion bands in Los Angeles since his arrival in the mid-70s. The first of these was Karizma, which he formed with top session players Carlos Vega, Lenny Castro, Mike Landau and Jimmy Johnson. Karizma played sold out club dates in L.A. for years and released four albums ("Dream Come True," "Cuba," "All The Way Live," and "Arms of Love") to great success in Japan, Australia and throughout Europe.
At one point, Karizma, which still regroups every so often, also toured extensively, including dates with Sadao Watanabe, Jeff Lorber and the Yellowjackets. Garfield and longtime friend/collaborator, guitarist Steve Lukather from Toto, formed Los Lobotomys in 1985, and this band has also met with great success in L.A. and abroad. In 1994, Garfield and Lukather produced the guitarist's second solo album "The Candyman" on Sony International. The project featured Fee Waybill from the Tubes and Simon Phillips, drummer for The Who, and the band embarked on a sell out tour of Europe and Japan, sharing stages with Peter Gabriel, Aerosmith and others.
As is typical of his musical resume, Garfield has worked on a number of unique projects over the past few years, both at home, in Europe and Japan. The Los Lobotomys tour led to a long-term scoring assignment on a German TV show, and he has produced various Japanese artists in addition to working with top Italian singing star Eros Ramazzotti. Garfield has also performed at Keyboard Magazine's 20th Anniversary Concert at the NAMM show alongside Bruce Hornsby and Joe Zawinal; played at the Modern Drummer magazine's anniversary concert with Steve Ferrone; scored the syndicated TV show "Sentinel"; sat in with Isaac Hayes and The Blues Brothers at a House of Blues benefit concert; released two DCI instructional videos on how to play rock and roll keyboards; written music for the trailer for the Billy Crystal-Robin Williams comedy "Father's Day" with James Newton-Howard, and background cues for Good Day L.A. In between these gigs, he was pouring over the logistics and finally the recording sessions for the Tribute to Jeff release.
Garfield also formed a production company, Creatchy Productions. With access to the top studio musicians and state of the art technological equipment, they have offered modern production values to both commercial and experimental projects. Creatchy Productions has released eight projects by various artists, and has accessed the Japanese youth market. By continuing to craft world music with Contemporary Jazz and to delve into new international technologies, Garfield has secured his niche as a visionary in contemporary music. At first glance, all of these diverse projects may seem to have little in common with his earliest gigs touring and recording with Willie Bobo, Freddie Hubbard and Tom Scott. But at age 40, the Chicago born, New York and St. Louis bred Garfield can summarize his entire, admittedly all encompassing career in three simple words: "I make music." That's his mission statement.