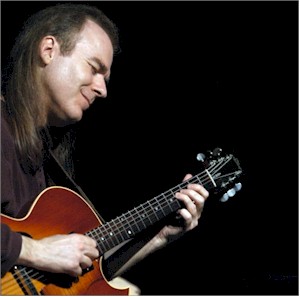 Artist Profile:
David Becker
For over 20 years guitarist/composer David Becker has continued to define himself as one of the most unique voices in Contemporary Jazz Guitar. He has led the DAVID BECKER TRIBUNE to a worldwide audience by performing in more than 16 countries. Over the years, the David Becker Tribune has opened for such celebrated jazz acts as Miles Davis, Chick Corea, Steps Ahead, Yellowjackets and Spyro Gyra.
The DBT was named one of the top ten performing groups by the Russian Press Association. German television journalist Roger Willemsen (ZDF) called David Becker "one of the best jazz guitarists ever." Jazz Podium called him "a poet on the jazz guitar." The DBT have performed at some of the most prestigious venues throughout the world including London's Barbicon Centre, Rotterdam's De Doelen, Munich's Olympia Halle and St. Petersburg's (Leningrad) Jazz Philharmonie.
The DBT has also appeared at several international jazz festivals including Jazz op den Berg, Belgium, Robert Norman Festival, Norway, and Hildener Jazz Tage, Germany. With extensive touring throughout the USA, Mexico, South America, and Europe, including sold-out concerts in Russia, the DBT has sold records in more than 25 countries. Beginning his solo career at the age of 22, David Becker had already toured Europe and the US extensively before releasing his critically acclaimed debut album LONG PETER MADSEN (MCA) in 1986. The follow-up release SIBERIAN EXPRESS (MCA) topped the Jazz and Contemporary music charts (#3 R&R) and wound up on the Grammy ballots. Three more acclaimed albums followed: THIRD TIME AROUND, IN MOTION (Bluemoon) and NEVSKY PROSPEKT (Pinorrekk).
In 2001, David Becker became one of the first jazz artists to record and release a DVD Audio (6-channel surround sound). GERMERICA (Silverline) received accolades from audio aficionados around the globe and made the SoundScan DVD sales charts. The seventh DBT release WHERE'S HENNING (PARAS/Acoustic Music) received rave reviews worldwide and reached #34 on the JAZZWEEK jazz charts. All Music Guide gave it 4 stars. Jazz Podium called it "a masterpiece" and The Buffalo News said, "One of the strongest jazz guitar trio records in a very long time." David has also performed with such Guitar greats as Atilla Zoller, Larry Coryell, and Kenny Burrell.
2005 will see the release of two new recordings: a duo date with jazz guitar legend Joe Diorio, THE COLOR OF SOUND (Acoustic Music) and a solo effort, EUROLAND (Cool Springs Music). David has been featured on the Voice of America, Sirius Radio, NPR, Europa Plus, and AEI In-Flight Entertainment. His music has been heard on ABC Monday Night Football, Entertainment Tonight, and The Weather Channel as well as numerous other television and radio programs throughout the world.
He has also been a featured guest on NBC's Talkin' Jazz, Willemsens Woche, WDR's Local Zeit and the Paul Rodriguez Show. David Becker is also very active in music education, performing masterclasses and workshops around the world, including Strathclyde University in Glasgow, the Conservatroium in Maastricht, the Hochschule in Koeln, Music Tech College in St.Paul, Guitar Summer Workshop in Freiburg, Acadamy of Contemporary Music in Zurich, and the Musicians Institute in Hollywood. From 2000-2004 he was a guest lecturer at the USC Thorton School of Music.