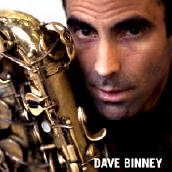 Artist Profile:
David Binney
David Binney was born in Miami, Florida and raised in Southern California. He began to study the saxophone and at the age of 19 moved to New York City to play gigs and to study with Phil Woods, Dave Liebman and George Coleman.
In 1989 Dave was awarded a grant from the National Endowment for the Arts to record his first album. "Point Game", which was released on the French label Owl Records, featuring Marvin "Smitty" Smith, Edward Simon, Adam Rogers and Lonnie Plaxico.
Since then, Dave's distinctive saxophone sound and innovative compositions have been heard from basement clubs in New York to jazz festivals in Europe.
In addition to Dave's extensive work as a leader, he has been sought after as a sideman, appearing on record with Medeski, Martin & Wood and Uri Caine's Mahler Project. Dave has also appeared on stage with Aretha Franklin, at Carnegie Hall, and with Maceo Parker, to name a few.
He has produced all of his own albums, in addition to two of the Lost Tribe releases. Winning praise from critics and colleagues alike, Dave was recently singled out by Jazz Times as one of a handful of "young players who have created an alternative jazz scene…all of whom are playing adventurous, original music." Dave also has his own record label, Mythology Records, which he started in 1998.