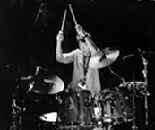 Artist Profile:
Danny Yamamoto
A graduate of Los Angeles' Dorsey High School, Danny has had a lifelong love affair with music. Beginning with the accordion (yes, the accordion) Danny, reflective of his eclectic tastes in art and music, plays virtually all the instruments in a band, but as a tool for self-expression, found the drums to be the key.
In fact, he played in the high school battle of the bands (and came in second?) with a jazz trio featuring himself, bassist (now musician-producer) Larry Klein and pianist ( now Downbeat award-winning jazz keyboardist) Billy Childs. After such a luminous start, he settled in as a music major at UCLA, but gradually became more and more involved with Hiroshima, becoming a principal member, and leaving school to engage in the world of music fulltime.
While playing and recording with a number of other bands, Danny's interests expanded toward traditional Japanese music. In addition to his work as a drummer, he now plays taiko with Johnny in his workshops, and in concert with Hiroshima. He also plays synthesizers with 'June Kuramoto and Friends,' studies drums with renown drum teacher Freddy Gruber, and is expanding his collection of ethnic instruments.