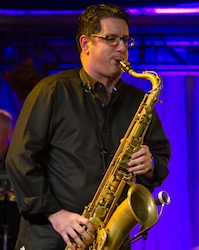 Saxophonist, Chris Farr, plays alto, tenor and soprano saxophone, and the Electronic Wind Instrument. In addition to playing with Grover, Chris has toured and recorded with many groups, including The Maynard Ferguson Big Band.
He also has two CD recordings with the group, Common Ground. Chris received his Bachelors in Jazz Performance and a Masters in Arts and teaching from the University of the Arts in Philadelphia. He has performed and toured with various internationally renowned artists, and has performed and recorded all genres of music.
He is currently under a recording contract with TMP Records. His debut release, Common Ground, has received national acclaim. His second release, Not Enough Space, again displays his talent as a writer, arranger, performer, and producer. Adjunct Assistant Professor (Jazz Improvisation; Saxophone; Musicianship) BM, MAT, The University of the Arts. Saxophonist Chris Farr graduated from University of the Arts in 1995 and since then has been a highly sought after performer and educator.
Chris is currently the head of the saxophone department at the University of the Arts. Chris is also a clinician and endorser of Eastman saxophones. Over the past 15 years, he has performed, toured and recorded with the likes of Blood Sweat & Tears, Elvis Costello, Jill Scott, Sting, John Legend, Mary J. Blige, The Roots, Teddy Pendergrass, Grover Washington, Gerald Veasley & Maynard Ferguson.