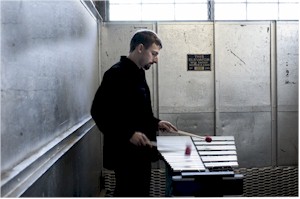 Artist Profile:
Chris Dingman
Born and raised in San Jose, California, Chris Dingman began piano and percussion studies at an early age. However, it was not until he moved to the east coast to attend Wesleyan University that he discovered the instrument that would become his life's passion: the vibraphone. Since then, Chris has performed, studied, and traveled with many of the most distinguished musicians in jazz.
As a composer, performer, and teacher, Chris fuses numerous cultural and stylistic influences into a progressive approach to the vibraphone in improvisational music. Chris received his B.A. with honors in music from Wesleyan University. At Wesleyan, Chris studied intensively with several master musicians, including vibraphonist Jay Hoggard, drummer Pheeroan AkLaff, and composer/multi-instrumentalist Anthony Braxton. While at Wesleyan, Chris also performed with such distinguished artists as Don Byron, Pheeroan AkLaff, Kwaku Kwaakye Obeng, John Hebert, and Taylor Ho Bynum.
Chris was also heavily involved in the world music program at Wesleyan, studying
South Indian, West African, Korean, Afro-Cuban, and Brazilian music. In the summer of 2000, his studies brought him to Kerala, India to study mridangam and South Indian classical music, an experience that greatly influenced his approach to rhythm and form in both his compositions and his improvisations. After spending three years performing and teaching in the New York City area, Chris was accepted into the prestigious Thelonious Monk Institute of Jazz Performance at the University of Southern California in Los Angeles.
Chris was one of only eight musicians selected by Herbie Hancock, Wayne Shorter, and Terence Blanchard to participate in the two year program starting in 2005. At the Institute, Chris is currently studying with jazz masters Ron Carter, Jimmy Heath, Terence Blanchard, and many others.
In November of 2005, the Institute's ensemble will travel to Vietnam on a State Department-sponsored tour to perform and give master classes along with legendary musicians Wayne Shorter and Herbie Hancock.. Chris has performed with a number of the most innovative musicians in jazz, including Ralph Alessi, Mark Shim, Steve Davis, Drew Gress, Steve Kirby, Eric McPherson, and Gerald Cleaver, among others. In 2004, Chris formed his own Quartet which performs his original compositions. The Quartet includes bassist Matt Brewer, alto saxophonist Steve Lehman, and drummer Tyshawn Sorey.
As a sideman, Chris has performed with the Steve Lehman Quintet, the Jackson Moore sextet, and the Will Connell group among others. Chris was recognized as one of the "Top Ten Sidemen of 2004" by jazz journalist Phil DiPietro for his playing on Steve Lehman's acclaimed album Artificial Light (Fresh Sound/New Talent 186). In addition to performing, Chris has been teaching privately for the past 8 years.