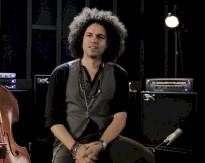 Born and raised in Cuba, is the son of the world famous bass player, Carlos Del Puerto. Carlos Del Puerto is a founder and original member of the group Irakere and a distinguished professor and author of the book The True Cuban Bass, adopted by Berklee College of Music. Though mentored by his father, Carlitos also continued his musical studies in Cello Performance at Alejandro Garcia Caturla Conservatory.
Additionally, he attended the world famous National School of Music & Arts in Cuba, where he earned the title of Professor of Contrabass and Ensemble Performance At 17 years old, Carlitos was recognized as Best New Jazz Artist at the International Jazz Festival in Havana, Cuba.
Since arriving in the United States, Carlitos' work ethic is clearly reflected in such credits as Bruce Springsteen, Quincy Jones, Stevie Wonder and Herbie Hancock to name just a few. He has fearlessly toured the world sustaining a high level of quality on his instrument and relentlessly inspiring audiences and musicians alike.
Carlitos is always striving for excellence in his craft, whether he is performing in the studio, or on world-class stages. Regardless of what type of music he is playing, or in what venue, Carlitos' goal is to create a unique experience, to be creative.