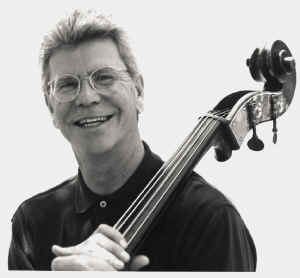 Artist Profile:
Bob Magnusson
Magnusson, Bob (Robert William) b. New York, 24 Feb 1947. Double bass player. He grew up in a musical family (his father was principal clarinetist in the San Diego Symphony Orchestra, studied French horn for 12 years, and in 1967 took up double bass.
The following year he toured Europe with Buddy Rich's big band, then played with the San Diego Symphony Orchestra (1968, 1972-3) and in a backup trio for Sarah Vaughan (1971-2, 1975-6).
He performed and recorded with Art Pepper (intermittently 1977-80), Benny Golson (intermittently 1977-82), John Klemmer (1978), Joe Farrell 91978-80), and in Nelson Riddle's orchestra accompanying the pop singer Linda Ronstadt (1983-5). As a studio musician he recorded for the Concord label with such leaders as Bud Shank (1977), Laurindo Almeida (1978-83), and Bud
Shank and Shorty Rogers (1983).
From 1979 to 1982 Magnusson played in the cooperative group, Road Work Ahead with the drummer Jim Plank, the pianist Bill Mays, and the guitarist Peter Sprague; albums were issued under Magnusson's name. A top jazz and studio bassist, Bob Magnusson has worked with virtually everyone in modern jazz. The son of a clarinetist who played with the San Diego Symphony, Magnusson studied French horn for 12 years before switching to bass in 1967.
His talent and sound developed very quickly, touring with Buddy Rich's Orchestra by 1968, playing with the San Diego Symphony and having two stints with Sarah Vaughan (1971-72 and 1975-76). Magnusson, who has been a studio musician for decades, was part of the co-op group Road Work Ahead from 1979-82.
He has recorded with John Klemmer (Nexus), Art Pepper, Benny Golson, Joe Farrell, Linda Ronstadt (with Nelson Riddle's Orchestra), Bud Shank, Laurindo Almeida and Shorty Rogers, among others.