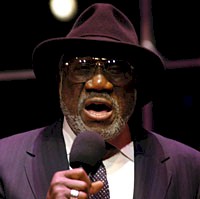 Artist Profile:
Bill Henderson
Sounding rich, full and the seasoned veteran that he is, Mr. Henderson entertained in true Hollywood style. Joking with the audience as he plied his trade, feeling comfortable in front of an appreciative crowd (that included Dr. Billy Taylor.)
He worked his way through the standards, adding his personal touch to each song, bringing a great band with him that included: pianist Ed Vodicka, bassist Chris Connor and drummer Mark Stevens.Mr. Henderson, a personable, talented and funny man, honed his singing chops with folks like Dizzy Gillespie, Oscar Peterson and Count Basie.
More recently he has worked with bassist Charlie Haden. Mr. Henderson has appeared on my TV shows, including Cosby and ER. He is known for his hit in 1958 with Horace Silver's "Senor Blues." As music critic Leonard Feather put it, " Henderson's phrasing is virtually his own copyright. He tends to space certain words as if the syllables were separated by commas even semicolons; yet every thing winds up as a perfectly constructed sentence.