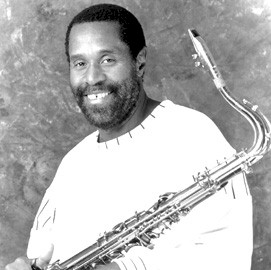 Artist Profile:
Bennie Maupin
When Bennie Maupin was a tiny fellow growing up in Detroit he'd skip down a few blocks every afternoon and squat under an open window where he'd listen to an old neighbor play the saxophone. He'd close his eyes and pretend to play a stick, the way his neighbor made magic on that saxophone, fantasizing mellow notes skimming tree tops and brushing stars. Playing sax had become his obsession.
Now, many moons later, "Saxophonist Bennie Maupin and Friends", will be featured at the Los Angeles Country Museum of Art's "Jazz at the Museum", a series of summer Jazz concerts at the Times Mirror Central Court. Maupin, 52, grins broadly as he about his music. "I grew up round rhythm. Lots of it. Gospel, classical, jazz and the blues ," he said softly.
"My environment exposed me to good music and taught me its value. I learned from the finest." Maupin, who lives in Altadena, studied at the Detroit Institute of Music while working part time and playing, with groups in Detroit. That was until the night the Four Tops, a musical group, heard him play and asked that he join them for a New York gig.
"This was the chance of a lifetime," he recalled.
"Most of my friends had gone to New York. It was easy to leave that job and go on tour with the Four Tops. We played the Catskills in upstate New York, 500 Club in New York City and other famous night spots. When the engagement finished, Maupin continued playing with various bands in New York City. "This was the night life. Jazz! Music! I couldn't believe it. I was meeting Sonny Rollins, Dizzy Gillespie and other musical giants who would come to watch us play," he said. While in New York he recorded With Horace Silver, Lee Morgan, McCoy Tyner, Roy Haynes, Miles Davis and Herbie Hancock.
Leaving the Big Apple 10 years later, Maupin headed for Los Angeles and was based in Hollywood where the bulk of rehearsing, television appearances and recording took place. On a trek to San Francisco he merged with Herbie Hancock, creating the album "Headhunters," which has sold more than 1 million copies and has earned both gold and platinum status. Maupin also composes and arranges, and is studying film scoring and composition with Lyle (Spud) Murphy. He and his wife, Barbara, have a 2-1/2-year-old son, Toussaint. "Many musicians live in Altadena," said Maupin. "This is a cultured community." The best known works of Bennie Maupin include activities with Herbie Hancock and the comfortably soothing play of his bass clarinet in Miles Davis' album Bitches Brew. In his high school days, Maupin began playing tenor saxophone and went to Detroit Institute for Musical Arts.
He was locally active in Detroit, playing the instrument. In 1963 he moved to New York and joined various groups, working on freelance with Marion Brown, Pharoah Sanders and others. From around the year 1966, he began playing regularly with Roy Haynes or Horace Silver. In 1968 Maupin made a record with McCoy Tyner, and in 1970, with Lee Morgan and Woody Shaw.
After playing for Miles' recording, he joined Herbie Hancock Sextet. Maupin was the only member of the Sextet who joined Headhunters which Hancock set for in 1973 after breaking up the Sextet. Maupin led the dates of ECM in 1974, and Mercury from 1976 to 1977. Though he has not come out as a bandleader, and kept a low profile in these years, his 1998 play in Driving While Black is highly valued.