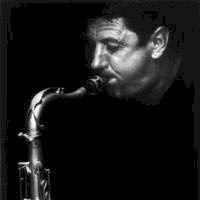 Artist Profile:
Benn Clatworthy
Born in Hastings in 1955, but raised in south London, tenor saxophonist Benn Clatworthy — the grandson of 1930s stage star Gertrude Lawrence — took lessons at nineteen, from Ronnie Scott, who recommended him to the Berklee College of Music, Boston.
Now resident in Los Angeles, Clatworthy has been a regular in clubs there for two decades, and has worked with artists such as Cedar Walton, Lionel Hampton, Johnny 'Hammond' Smith and Jimmy Cleveland. His latest recording, Let's Face the Music (Maestro, 2000), epitomises his approach: 'If you're not affecting emotions, music has little value.' BENN CLATWORTHY is a truly impressive modern jazz tenor player who was first brought to the Club's attention by the late Ronnie Scott.
Although British, Ben is now resident in California where he has established himself as an important talent. "While twenty years in Los Angeles seem to have had little effect on expatriate Brit Benn
Clatworthy's Bow Bells speech, his tenor sax playing has acquired strong US characteristics, not least a tough personal tone and a wide emotional range that extends from ballad tenderness to gladiatorial torrents of controlled aggression at fast tempos." Chris Lee "…Scattering notes around the room with a deliciously dry loquacity in a fast-moving hard-bob manner" John Fordham A fixture in Los Angeles area clubs since 1980, Benn Clatworthy was originally heavily influenced by late-'50s John Coltrane, but would soften his tone and sometimes sound a little like Warne Marsh with touches of Sonny Rollins.
He debuted on record in 1990, with his Discovery release Thanks Horace (which also features pianist Cecilia Coleman) and, in 1995, released While My Lady Sleeps on his own label (featuring Cedar Walton as a guest).