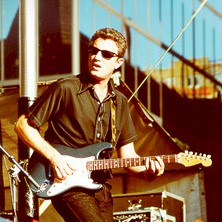 Artist Profile:
Avi Bortnick
Avi Bortnick was born in Petah Tikva, Israel, but his parents moved to the US soon after. Avi was in high school in the late 1970's, at the tail end of the heyday of American funk and soul music. He played in various cover bands, whose goal was to emulate Earth Wind & Fire, Heat Wave, Chic, Rufus, Rose Royce, Lakeside, Rick James, Cameo, Mothers Finest and other pillars of funk and soul. Avi took lessons from St. Louis guitarist Peter Mayer, an amazing player and teacher.
He also studied classical piano from Linda Meyer during high school. He attended the University of Wisconsin in 1981, and though he wasn't a music major, he had the great fortune of studying with Richard Davis, playing in his Black Music Ensemble combo and bigband. In 1982, his family moved to Oakland, California where he attended the University of California-Berkeley and majored in Latin American Studies. He chose this as a major partially as an extension of his love for Brazilian music.
Avi lived in Brazil in 1984 and 1985. After graduating from Berkeley in 1986, He started playing with various African and Caribbean music groups. The similarities between funk and African and Caribbean styles are remarkable, and his schooling in 70's funk trained him well for the feel and
syncopation of other African-based music. Throughout the late 1980's and early 1990's Avi played with numerous funk, African and Caribbean bands in the San Francisco Bay Area, including Kotoja, Alphabet Soup, Bobby McFerrin, Jeff Narell, the Dry Look, and Crazy (from Trinidad).
In the Bay Area, Avi became known for my rhythm guitar playing (though he thinks he solos OK too). Avi loves playing rhythm guitar. He loves locking in with other musicans and finding a groovy part. In 1994, other interests led him to graduate school at the University of Florida, where he studied architectural acoustics. While in Florida, he started the funk band What It Is. They became popular in the Southeast, but eventually the band packed up and moved to California. Today, What It Is still exists. In the last year, Avi started his own quartet — Avraham's Soul Explosion. Avi was recommended for the gig with John Scofield by the fabulous Charlie Hunter. I flew to New York in January, 2000, where I met and played with John for the first time. I'm so honored and happy to be playing rhythm guitar with John Scofield, one of my guitar heroes.
In his "other" life, he's an acoustical consultant with Thorburn Associates. He usually works with architects in the design of buildings in which sound is an important consideration. Avi Bortnik (The World's Funkiest Rhythm Guitarist!) has to be the musician/friend that I hold in the highest esteem… What It Is to John Scofield… I am so lucky to have had the opportunity to learn from and play music with you… Avi introduced me to the whole African diaspora of music: From Fela Kuti to South African Highlife, Cuban Folkloric/Africanized Styles, Brazilian Bahia culture…