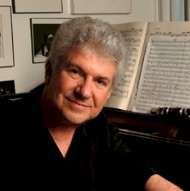 Artist Profile:
Tom Ranier
Tom Ranier is known primarily for his jazz piano playing but he is also a very accomplished saxophonist, clarinetist, composer and arranger. He has risen to the top of the California jazz scene and is generally regarded as one of Southern California's top jazz improvisers. One of Tom's trademarks is his extraordinary technical ability which, at the keyboard, is reminiscent of Oscar Peterson's bravura and bluesiness, Chick Corea's intricate and beautiful melodies and Bill Evan's chordal brilliance.
As a composer and arranger, Tom exhibits a broad orchestral palette and
a keen sense of melody and harmony. This is clearly illustrated in his latest recording effort entitled "In The Still Of The Night" which showcases eleven of his original compositions for keyboard, saxophone, clarinet and string orchestra.
As a jazz educator, he is currently involved in a New Jazz Studies Program at U.C.L.A. headed up by famous jazz guitarist Kenny Burrell. Tom's teaching responsibilities in this program are in the areas of jazz piano and jazz theory.