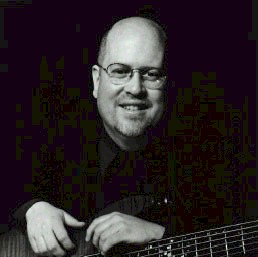 Artist Profile:
Todd Johnson
Todd Johnson is recognized as a pioneer of the six-string bass. With his custom Yamaha six-string bass, equipped with a midi pick-up, Johnson uses an innovative technique where he plays chord changes and bass lines simultaneously. Additionally his use of the midi interface, a technology which allow his instrument to sound like many instruments at the same time, adds both harmonic color and texture that further defines his unique sound. His instrument can, quite literally, sound like an organ and a bass at the same time.
As an integral member of the critically acclaimed jazz trio of guitarist Ron Escheté, Johnson excels as both a supporting musician and a seasoned soloist. He is consistently cited for his contributions of skill, originality, and versatility, as well as his ability to sound as if he is simultaneously playing multiple instruments. Group leader Ron Escheté says "Todd . . . can sound like a second guitar player or even an organ or electric piano." Zan Stewart of the Los Angeles Times writes that Johnson's six-string bass along with Escheté's seven-string guitar "give the musicians an amazing range of sounds and approaches." The group is repeatedly hailed as the trio that sounds like a quartet.
What is most admirable is Johnson's ability to play alongside Escheté, intuitively knowing where Escheté will take a tune, seemingly before Escheté knows himself. Having played together for 10 years, Johnson and Escheté play remarkably well whether they are performing rehearsed or improvisational material. 20th Century Guitar Magazine's Jim Fisch calls it "a delight to witness the telepathic communication between Todd and Ron seamlessly dovetailing their carefully crafted improvisation."
Since joining the Ron Escheté Trio in 1991, Johnson has recorded four CDs with the trio and has performed at numerous festivals, concerts and club dates throughout the United States. Johnson is currently completing a CD entitled Live at Rocco, soon to be released.
In addition to his work with the Ron Escheté Trio, Johnson performs and records with other artists, including Mike Stern, Dave Weckl, Scott Henderson, Plas Johnson, Sam Most, Joe LaBarbera, Poncho Sanchez, Paul Humphrey, and Frank Gambale.
Though Johnson dedicates himself largely to performing and recording, he is currently writing a bass method book and teaching courses and workshops in a variety of settings. Johnson has taught for nearly a decade, at such notable schools as California Institute of the Arts, Musicians Institute, and the L. A. Bass Exchange, as well as teaching private lessons. His unique style has also afforded him the opportunity to work with Yamaha as a Clinician demonstrating various techniques and concepts at clinics and master classes upon request. Even still, Johnson is active in his church and makes time for community activities and volunteer performances.
Originally from Washington State, Todd Johnson has dedicated 20 years to studying music, perfecting his skills and developing his style. A graduate with vocational honors and the Outstanding Student award from Musicians Institute (BIT) in Hollywood, CA, Johnson was also privileged to study electric bass with such renowned electric bassists as Gary Willis and Jimmy Haslip.
As a seasoned performing artist, Todd Johnson has developed a rich philosophy encompassing his spiritual, educational and achievement-oriented sides. Johnson sees his talent as a gift to continually enhance and develop. Recognizing the bias against electric bass in standard jazz, he is determined to increase the acceptance of the instrument within the field while adding strength and beauty to the music. A unique musician with a unique instrument, Johnson strives to stretch the limits, creating new sounds and directions in which the electric bass can go.
"Todd Johnson has found the freedom of extra strings, and as such has developed a distinctive solo voice on his instrument . . .," writes Jim Fisch. Time and again, Johnson is acknowledged as unique, creative and innovative in his musical talents. He brings more than mastery to the electric bass; Todd Johnson brings a new vision of the instrument that greatly expands its musical horizon.