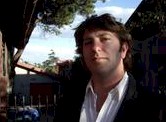 Artist Profile:
Timothy Young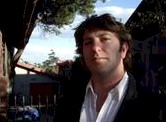 Timothy Young began playing guitar at age 5 under tutelage of Sister Margaruite of the Sacred Heart Convent in Menlo Park, CA.
His formative years were spent daydreaming and playing theatrical games in the graveyard and in the creek which wound through the eucalyptus trees to the S.F. Bay. At age 11, he formed QBXA with his best friend and inspiration, Greg Peters. Together they made the transition from air-guitaring to the Rolling Stones to writing and playing their own songs.
After a brief stint in The Boxing Kangaroos (a band comprised of students of Toby Germano), he was ready to lead his own band, as he did throughout high school, eventually teaming up with Paul Moore (formerly Paul Regoli) and congealing into Twilight Breakfast. They recorded an E.P. which had moderate success on Bay Area radio station Live 105, with Timothy's song, "The Saddest Day." In 1988, Timothy relocated to Seattle and played in a series of bands including Action Buddy, God Ball, the Scabs, finally settling in with the Scallywags, a ten year collaboration with Mike Coffey (bass/guitar) and Mike Stone (drums). They released "Tourette's Syndrome," a mighty 24 song cd in 1995.
In 1996, Timothy released his first solo record, "With Very Special People," a project that expanded his skills as a composer and arranger. Another great learning experience has been his collaboration with friend and inspiration, Eyvind Kang (violin/ viola) as Chunky Wedgies (with Geoff Harper – bass) in Nades (1-10) on recordings (Eyvind's cds on Tzadik) and later with Los Parasitos and Virginal Coordinates (feat, Mike Patton). Working with Eyvind has been pivotal in Timothy's development as a musician.
In 1996 Wayne Horvitz (keyboard – Naked City) formed Zony Mash with Andy Roth (drums) and Fred Chalenor, then later Keith Lowe (bass) and Timothy (guitar). They toured Europe, Canada, the US and even Iceland, releasing 7 (and counting) cds along the way. Now called Sweeter than the Day, they continue to play select engagements around the world. After leaving the Scallywags in 1999, Timothy started his own band, and along with Paul Moore, led the group through many changes; from Very Special Forces – a 5 piece psycho punk / no wave unit, to VSF – psychedelic shock-pop, to V – the 40 piece unicorn rock orchestra currently working on the song cycle "The Fool," to be released next year.
In August of 2006, Timothy and Eryn, his wife of 6 years, relocated to LA. With Eryn on drums/vox and John Schuller on bass, they are The Youngs and with their second cd, "Hand Up, Head Down" finished, they will be performing in and around LA, with plans to tour in the near future. Their first cd, self titled, was released on Web of Mimicry in 2004. In LA, Timothy will be playing more with his rock dream band, THRUSTER! – Matt Chamberlain (drums) and Kaveh Rastegar (bass). They will be releasing a record this year, but the thrill is playing live – where they play from their animal brain – graceful, powerful and terrifying.
Other notable engagements include playing with David Sylvian (Everything and Nothing tour 2001-02), working with Robin Holcomb – live and on "The Big Time" (Nonesuch Records 2003) performing with Sam Rivers and Julian Priester and playing with Michael White, Cecil MacBee and Kenneth Nash on Michael's recent cd, Voices. For Timothy, music has been a refuge, a teacher and a realm of healing and transformation. He is grateful for the opportunity to touch and be touched through music