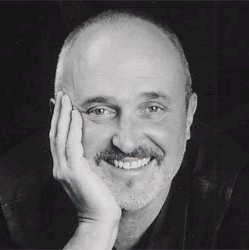 Artist Profile:
Theo Saunders
Theo Saunders has performed in many of the world's most prestigious jazz festivals, concert halls and night clubs, with distinguished jazz artists including: Freddie Hubbard, Carla Bley, Charles Lloyd, Bob Brookmeyer, Harold Land, Buddy Collette, Eddie Harris, James Moody, Bobby Hutcherson, Teddy Edwards, Jack Dejohnette, Jimmy Garrison, Pharoah Sanders, Sonny Fortune, Slam Stewart, Zoot Sims, Rashied Ali, Chris Conners, Morgana King & Roseanna Vitro.
His diverse musical activities have included musical director for opera and dance productions, for cabaret singers, and international musical theatre. He has played with many well known Latin, R&B, and rock artists, including Claudio Roditi, Victor Brasil, Ray Mantilla, Willie Bobo, Gladys Knight, Four Tops, Elephants Memory, and is a former member (Piano) of the Jazz Tap Ensemble.
As a composer, Theo has numerous jazz & rock compositions to his credit as well as original scores for dance, theatre, radio and multimedia production. His compositions have recently been recorded by Henry Franklin, Ray Armado and Bruce Paulson. His biographical sketch appears, in "People in Jazz-Jazz keyboard improvisors of the 19th and 20th centuries" by Bill Lee.
"Musician Theo Saunders never fails to amaze and to satisfy his listeners with his pianism. His virtuosity at the keyboard, his creative programming and selection of players usually results in a superb evening of entertainment." –Bob Agnew (L.A. Jazz Scene)
"…the real solid values of Saunders' writing, along with his playing, constitute the album's chief virtue." – Downbeat
"A rhythm team composed of Theo (Ted) Saunders on piano…provided blistering support on the up-tempos, with exemplary solos." -Leonard Feather, LA Times
"Pianist Saunders' powers of interpretation and invention are forces to be reckoned with; on an average night he's provocative, on a good night he's mind-bending." – Joseph Woodard, LA Times
"Saunders provides shimmering backdrop and some sparkling lead efforts of his own. Saunders excites you with deliberate thematic development which builds to climatic resolution." – The Portland Journal"
"Theo Saunders has a talent for constructing elegant solos in which linear melodies melt seamlessly into rich, two-handed chords" – Alexander Gelfand (Jazziz)
"Pianist Theo saunders plays laudably in both jazz and Afro-Cuban styles and can mix them nicely." – Harvey Pekar (Jazziz)

Discography
As Leader: *Theo Saunders Trio Live! with Jeff D'Angelo and Mark Ferber. *Three for All (Blue Chip Jazz) with Mike Stephans, Chris Symer. *Sueblue (Discovery) with Charles Owens, John Heard, Dick Berk.
As Co-leader:
*High Standards (Polydor) with Mike Stern, Steve Slagle, Victor Lewis and Harvey Swartz

As Sideman:
*Living Time (Columbia) with George Russell & Bill Evans (co-leaders) with Tony Williams, Joe Henderson , Ron Carter, Snooky Young, Garnett Brown, Sam Rivers, Jimmy Guiffre, Stanley Clarke. *Blues & Other Happy Moments with Barone Brothers (leaders with Tom Scott, Dick Spencer, John Heard, Shelly Manne, Alex Acuna.) *The Two Quartets (Discovery) with Charles Owens and John Heard, Carl Burnett. *Light Year (Inner City Records) with David Pritchard. *Jazz Antiqua (RCA Red Seal) with Frederic Hand and Jane Ira Bloom. *Alive In LA (Catalyst) with Pat Britt, Henry Franklin, and Ron Jefferson. *Let's Face The Music (BCM Records) with Benn Clatworthy, JimPaxon, and Christoph Luty. *Free Association (Household Ink) with Headless Household, Dave Binney and Jeff Elliott. *The Beautiful Never (JB Records) with John Burgess, Henry Franklin, and Willie Jones III. *Bass Encounters (Resurgent Records) with Henry Franklin. * Peligroso (Cubop Records) with Dave Pike. *Mallet Hands (Cubop Records) with Ray Armando. *The Music of Eric Von Essen Vol. 3 (Cryptogramophone Records). *Noche (Sea Breeze Records) with Jerry Kalaf. *Gertie, (Mainstem Records) Theo, Phil and Me-Benn Clatworthy. *Carla Bley-Live in Montreal (DVD) . *Acknowledgment (LifeForce Records) with Bobby Matos *All God's Children (Skipper Productions) with Henry Franklin *Two for the Road (Cougar Records) with the Estrada Brothers
Major Festivals, Concert Halls and Clubs
JVC Jazz Festival – NYC Antibes Jazz Festival – Juan-Les-Pin, France NOS Jazz Festival – Amsterdam North Sea Jazz Festival – Den Hague, The Netherlands Sarasota Springs Jazz Festival – Sarasota Springs Montreal Jazz Festival, Montreal Palais D"Europe – Le Touqet, France Canada Jam II – Toronto, Canada Montreaux Jazz Festival – Montreaux Avery Fischer Hall – NYC Carnegie Hall – NYC Greek Theatre – Los Angeles Riga Sports Palace – Latvia Montmarte – Copenhagen Metropol – Berlin Village Vanguard – NYC Sweet Basil – NYC Ojai Jazz Festival – Ojai, CA UCLA Jazz Festival Santa Monica Jazz Festival Santa Barbara Jazz Festival Catalina's – Los Angeles Jazz Bakery – Los Angeles

Compositions
Musical Score for Waterside – Plexus Dance Theatre, Venture, CA. Musical score for Vincent – A Passionate Journey Into The Life Of Van Gogh, a play by Leonard Nimoy. Music for Chekhov Short Stories, a series for Public Radio. Music for The Wood Demon, a Chekhov play produced by the Mark Taper Forum, Los Angeles, CA. Musical score for the Sequoia National Park Centennial Multimedia Presentation. Over One Hundred jazz & rock compositions.

Musical Director
Musical Director (MD) for the play Peace Child, produced in both the US & USSR. MD for Trio, an opera by Noa Ain – performed at the Berkshire Music Festival; first American Music Theatre Festival, Philadelphia; and at Carnegie Hall. MD for The Outcast, an opera by Noa Ain, performed at Merkin Hall, NYC, Brooklyn Academy of Music, and Houston Grand Opera. MD for singer-actress Lanie Kazan.