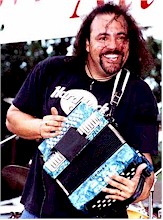 Artist Profile:
Terrance Simien
The driving rhythm in zydeco music has earned it a reputation as a dance music able to instantly create a party atmosphere. Despite the music's appeal, zydeco music has lacked a true crossover artist – one who is able to carry the genre into the mainstream. Terrance Simien is well primed to become that first artist. Not only a zydeco master (he can rock a groove as hard as any contemporary zydeco performer), Terrance's soulful singing allows him to rise above the crowd as a world class vocalist.
Terrance Simien is not only a zydeco master, but a soulful crooner with an emotional spirit based deep in the rural Louisiana Creole culture. He sets himself apart from most zydeco artists by writing original music instead of interpreting standards. A hit at festivals and performances around the world, Simien's band rocks with a driving rhythm full of energy …sure to get a crowd dancing!
Simien grew up in Mallet, Louisiana, where his church introduced him to the spiritual power of making music. Just down the street was one of the region's wildest roadhouses and, as a teenager, Simien discovered its low-down, tail-shaking party music: zydeco. The musical style born of the Creole culture which mixed African, French, Spanish and Indian heritages into hot food and music. Simien picked up an accordian, put a band together and started playing at the roadhouse.
Soon, Terrance Simien and his Mallet Playboys knew they had to leave the poor backwoods. At 17, Sim
ien hit the highway with his squeezebox. Fifteen years later, he and his band travel the world performing at more than 35 festivals a year, including an annual appearance at the New Orleans Jazz & Heritage Festival. Add club shows, recordings, and a movie (1987's "The Big Easy") and you have one of today's hottest zydeco artists.
For one thing, Simien's voice is just terrific. At times it has a Sam Cooke type quality as in the song "Paradise" on the Beadhead album and other times, an Aaron Neville sound as in the song, "This Old Road." These were the singers who first caught Simien's attention as a kid. Then when he was in his teens, his bricklayer dad took him to a dance hall in Opelousas. Simien liked what he saw and heard, especially from the accordion player. After that memorable introduction, Simien bought an accordion, began taping songs on the radio and as he put it, "picked up what he could."
While his music is homegrown roots music straight from the Louisiana bayou—Mallet, Louisiana about 75 miles from Baton Rouge, to be exact, Simien freely incorporates influences from many other musical genres. This collaboration—which some term a Zydeco blend—is giving Simien's Zydeco music a long and healthy life, enabling Simien to break out of the regional box that might imprison other roots-bound artists. Simien has not forsaken his roots—the French Creole music of Louisiana. Just listen to the traditional French Creole tune, "Jolie Blonde" on Positively Beadhead. But at the same time, Simien's not letting his roots put him in a choke hold either. Because of the blend of his music, everybody seems to be claiming a piece of Simien—the blues world is claiming Simien as a blues artist; others hear the Caribbean influence and relate his music to Island music.
Still others see him as an R & B artist; others feel a jazz beat in his music. This makes for lots of CD sales, more air time, and most importantly to Simien, more fans across the globe. One of the things Simien likes most is to get concert fans out on the dance floor—after all, getting up and dancing to the music is as rooted in Creole culture as any aspect of his music. To get hesitant fans off their fannies, Simien throws strings of beads into the audience—beads like those thrown at Mardi gras. Thus, the name of his new album, Positively Beadhead, refers to those party goers who collect Mardi gras beads.
In performance, Simien is as much to be seen as heard—sweating and dancing, tossing his head from side to side, with his long hair streaming behind. He's wild! And the more the public sees of him, the wilder they get for Simien and his brand of Zydeco music. Simien's career started in 1981 when he formed The Mallet Playboys and began playing regionally in Louisiana. He paid his dues on the regional circuit and made his first U.S. and Canada tour in 1985. People and critics across the country really started listening to the fresh talent of this young budding star who introduced them to what was then a relatively new music style, Zydeco.