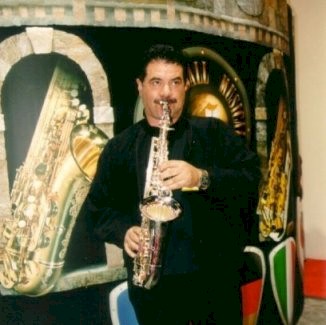 Artist Profile:
Steve Tavaglione
Personal Recordings: Caldera 1,2,3,4 , Blue Tav, and Silent Singing. Toured as a performing musician with: Caldera (Capitol Records) 1975-79, George Benson 1980-87, Diana Ross 1990, John Patitucci 1991-95, Randy Crawford, Chaka Khan, Sly and the Family Stone.
Performed in the bands of: George Benson, Diana Ross, Sergio Mendes, Gino Vanelli, Mark Isham, Randy Crawford, Vinnie Colaiuta, Dave Weckl, JohnPatitucci, Sly and the Family Stone, Strunz and Farah, Caldera, Maryln Scott, Frank Gambale, The Drifters, The Platters, Herman's Hermits, Roland Corp House Band at Winter Namm Shows, Chaka Khan, Emmanuel, Akai House Band at Winter Namm, Billy Childs Simon Phillips, Roger Waters and scores of others.
Recorded for: Whitney Houston, Patty Austin, Diane Reeves, Air Supply, Alan Holdsworth, Frank Gambale, John Patitucci, Randy Crawford, Diana Ross, Randy Newman, Steve Winwood, Bonnie Raitt, Sergio Mendes,Tulku, Gardner Cole, Roger Waters(Pink Floyd), Walter Becker(Steely Dan), Carl Anderson, Andre Crouch, The Winans, Twila Tharpe, Joni Mitchell, Mark Isham, Holly Cole, Joseph Williams, Strunz and Farah,Lionel Richie, Michael Bolton, Gary Willis, Lee Ritenour, Roland Corporation, Alesis Corporation, Kyle Eastwood, Jimmy Earl, Jeff Beal, John Beasley, Richard Souther, Jeph Siegal, Luis Conte, Roland Vazquez, Vinnie Colaiuta, Dave Weckl ,Sandi Patti, Peabo Bryson , Jimmy Haslip, and Michael Jackson.
Recorded internationally for: Luis Miguel, Ana Gabrielle(Mexico), Eros Ramazotti, Drupe (Italy), Alex Werner (Argentina), Sandy and Junior Maria Bethania, Sandra Dos, Rita Lee, Ivan Lins, Netinho, Simone (Brazil), Yasuko Agawa, T-Square, Yamazato, Sony Playstation, Nintendo (Japan), Mezzoforte, Jacob Magnussen (Iceland), Diego Cortez (Venezuela), Jose Madueiro(Peru) L. Subramanium (India), Chima Vilchez (Spain) Lara Fabian (Canada).
Television and other multimedia recordings: Dennis Miller Tv Show House Band, Joan Rivers Show House Band, Lois and Clark, The Pretender, Sliders, Duckman, Thirty Something, Fame , Dear John, Perry Mason, Courthouse, Jeff Foxworthy Show, Melrose Place, 90210, All my Children, Sunset Beach, Hallmark Hall of Fame Specials. HBO and Showtime Movies and Logos, Twenty One Jump Street.
TV Movies, Showtime and HBO Movies:, Dangerous Minds, The Bold and the Beautiful, ER Soundtrack CD, Another World, The American Music Awards, Fame 1997 , Jack and Mike, Entering the Circle , Nothing Sacred, Documentary Book and CD, Dr.Valerie Hunt on the Human Aura, Barry Goldwater Memories, Nightman, Lois and Clark Soundtrack, Profiler ,Welcome to Paradox, To Have and to Hold, Charmed, One Life to Live, Falcone(The Sopranos), Russo(the Sopranos), Diagnosis Murder, That's Life, Jack and Jill, Division, General Hospital, Nash Bridges and more.
Movies performed on: American Beauty, Wayne's World 2, Mo Money, Made in America, The People vs. Larry Flynt, The Last Seduction, Miami Rhapsody, Quiz Show, The Program, Commando, Time Cop, Oliver and Company, Night Falls on Manhattan, The Principle, I Love Trouble, Rapid Fire, Home for the Holidays, Mrs. Parker and the Viscious Circle, Cocoon, Barb Wire, Eight Heads in a Duffle Bag, Mad City, Money Talks ,The Postman, Calendar Girl, Corrina Corrina, Looking Italian, Red Corner, The Horse Whisperer The Program, Rush Hour, A Bugs Life, Meet Joe Black, The Passion of Ayn Rand, Erin Brokovich, Pay it Forward, In the Bedroom,The Salton Sea, Rush Hour 2, Ocean's 11 and more Commercials include: McDonalds, Taco Bell, Budweiser, Mercedes, Infinity, Saturn, Mazda, Cadillac, Coors, Leggs, Jack in the Box, AT&T DSL and more.