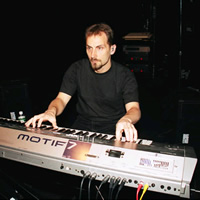 Artist Profile:
Steve Weingart
Steve Weingart was born in Dayton, Ohio in March of 1966. In his early years, his parents saw his delight in hearing musical sounds. When his mother put him up on the piano bench at age 3, he used his fingers to pluck out notes he heard in TV music. It was after he identified the notes in a passing car horn that my Mother realized he had perfect pitch and decided that music was his calling.
So began many years of piano lessons. Steve was fortunate to study with Mr. Audley Wasson, the best piano teacher in Dayton. It was during his time with him that he studied and performed the music of the master composers from the Baroque to the Modern periods. He taught Steve what beauty can come from having the tools and the passion to reach the listeners' ears.
His studies with Mr. Wasson ended when he graduated from high school.

What Mr. Wasson didn't know was Steve was a big fan of the group 'Chicago'. He doesn't remember how he first heard that band, but when he realized who was making that music, he couldn't get enough of them. He spent many hours trying to duplicate at the piano the wonderful harmonies of their compositions.
When Steve was about 10 years old he met his future brother-in-law Randy Ross. It was Randy who introduced him to the kind of music that he would spend all of his years so far playing, learning, and exploring. He first introduced Steve to the records of Herbie Hancock, Chick Corea with Return To Forever, and Weather Report. When he listened to those great composers and improvisers, he knew what he wanted to do in life. He was not only intrigued by the melodies and harmonies, but also by the wide palette of sounds being created by the synthesizers of the day.
By the time Steve reached The College Conservatory of Music in Cincinnati, Ohio, his thirst for learning about music had increased immensely. This is where he studied with the man who he considers to be his only teacher in improvisational music, Pat Harbison. One day he gave Steve 2 pieces of paper that contained extremely valuable information: scales and the chords that relate to them. For the years to come, he spent night and day playing and exploring these scales with the related chords in every possible way in every possible key signature in every song he learned. During these formative years, Steve played in various situations such as nightclubs, casuals, and jam sessions exploring the concepts Pat provided to him in those pages.
As his playing career developed, he felt it was time to move to a place where live music was more in demand. Of the choices before him then, Los Angeles seemed a better choice… the year round weather was also a consideration. In January of 1994, he packed up a truck and made the trip in 3 days. He found an apartment and began to look around town and see some of the great musicians playing at clubs and theaters. Steve slowly but surely began to play with a lot of great musicians in the area and also landed a job teaching at the Musicians Institute School.
He soon found myself playing with bands leaving town on short tours.
In between those tours with various artists, he was playing with a Jazz/Latin/Funk trio with Marco Mendoza on bass and vocals, and Joey Heredia on drums when he met Dave Weckl. From meeting Dave at this performance, they decided to get together and jam. In the first moments of this jam session, they wrote a song together and realized that they had a great chemistry together in music. As it turned out, Jay Oliver (the former keyboardist with the Dave Weckl Band) had gotten busy with many other outside projects and decided on a change in direction and left Dave's band giving Steve an opportunity to join. For the past 2 or so years, he has been traveling the world with this band. Also during this time, he wrote and co-wrote songs recorded on the Dave Weckl Band CDs named 'Transition' and 'Perpetual Motion'.
On a recent break from touring, Steve had an opportunity to reflect on his experiences and the journeys that have brought him to this point in life. Out of this reflection was the inspiration for a solo CD project entitled 'Life Times.'
Some of the other people that Steve has played with iniclude:
Chaka Khan – Frank Gambale – Scott Henderson – Eric Marienthal – Kenny Rankin – Jimmy Earl – Ernie Watts – Alain Caron – Michael Ruff – Warren Hill – Marilyn Scott -Jimmy Haslip – Terry Lynn Carrington – Jason Scheff – Keith Howland – Robben Ford – John Pattituci – Bunny Brunel – Tony MaCalpine – Virgil Donati