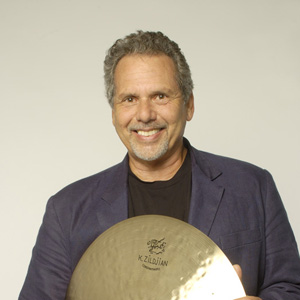 Artist Profile:
Steve Schaeffer
Steve Schaeffer is a Hollywood studio musician who has played on more than 1,000 feature films and original soundtracks.
Steve Schaeffer noted Hollywood recording musician started his career in New York City. At the age of 14, Steve was part of Marshall Brown's Newport Youth Band, a band made up the best young Jazz players in the New York, and Tri-state areas. At 17 Steve joined the Al Cohn/Zoot Sims Quintet at the famed Half Note in NYC. At 19 Steve joined Doc Severinsons Quintet. At 20 Steve joined Sarah Vaughn and stayed for 2 1/2 years, this band also had Chick Corea featured as Sarah's pianist. Steve also worked with jazz greats Joe Henderson, Eddie Daniels, Monty Alexander, Bob Sheppard, Pete Christlieb, and Mike Maineri to name a few artists.
Other positions followed with Herb Alpert and the TJB, Roger McGuinn and the Byrds, and Dreams with Randy and Michael Brecker. After 12 years on the road Steve took the drum chair with "A Chorus Line" at the Shubert Theater in Los Angeles and stayed for 2 years. It was there he was discovered and became one of Hollywood's most prominent recording musicians. He has played on 1000 feature films and Sound Tracks including:
Jerry Goldsmith, ("LA Confidential"), ("Airforce One"), ("The Edge"), ("Along came a Spider"), ("Star Trek" "Nemesis") ("Looney Tunes: Back in Action").
John Williams, ("Indiana Jones"), ("Close Encounters"), ("Amistad"), ("Catch Me If You Can"), ("War of the Worlds").
Howard Shore, ("Big"), ("Mrs. Doubtfire"), ("Seven"), ("The Truth about Cats and Dogs"), ("The Panic Room"), ("The Score").
Alan Silvestri ("Bodyguard"), ("Forest Gump"), ("Mouse Hunt"), ("What Lies Beneath"), ("What Women Want") and ("Castaway"), ("the Mexican") ("Polar Express").
David Newman, ("Anastasia"), and ("Bowfinger"), ("Galaxy Quest"), ("Ice Age"), ("How to Loose a Guy in 10 Days"), ("Serenity").
James Newton Howard, ("The Fugitive"), ("Outbreak"), ("Space Jam"), ("King Kong")
Babyface ("Waiting to Exhale").
Michael Giacchino, ("The Incredibles").
Randy Newman ("Meet the Fockers"), ("Pleasantville"), ("Monsters Inc"), both ("Toy Stories"), ("Cars") and on many other films with Bill Conti, Dave Grusin, Patrick Williams, and Henry Mancini.
Steve has also been featured on hundreds of television Shows, Dozens of Gold and Platinum records ranging from Barbra Steisand's Broadway albums both 1 & 2 and Toots Thielmans "Brazil 2", to GRP recordings with Diane Shurr and Stan Getz ("Timeless") and Harry Connick Jr., Steve has also played more than 12 Grammy Award Shows and Academy Awards Shows.