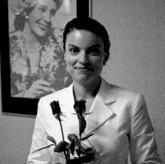 Artist Profile:
Roberta Gambarini
Born in Torino, Italy into a family where jazz was very much appreciated and loved, Roberta Gambarini started listening to this music as a child. She began singing and performing at the age of 17 in jazz clubs around Northern Italy, leading to performance opportunities at jazz festivals throughout Italy and Europe.
In 1998 she moved to the United States with a scholarship from the New England Conservatory in Boston. In October of the same year she was a finalist at the Thelonious Monk International Vocal Competition in Washington, D.C. Shortly after this she moved to New York City, where word of her stunning talent began attracting attention far and wide. She soon found herself recording, performing, and collaborating with many of the most respected artists in the world of Jazz, at some of the most important venues around the U.S and abroad.
The list of artists she has worked with include: Herbie Hancock, Hank Jones, Chucho Valdes, Eric Gunnison, Toots Thielemans, Clark Terry, Michael Brecker, Johnny Griffin, Roy Hargrove, Billy Higgins, Jimmy Heath, Percy Heath, Albert "Tootie" Heath, Slide Hampton, Frank Wess, Ron Carter, Harold Land, Curtis Fuller, Cedar Walton, Ronnie Mathews, Bobby Hutcherson, Nils Henning Oersted Pederson, James Moody, Lionel Hampton, Christian McBride, George Mraz, Jimmy Woode, Dennis Irwin, Jimmy Cobb, Al Foster, Willie Jones III, Alvin Queen, Karriem Riggins, Russell Malone, John Clayton, Jeff Hamilton, Dado Moroni, Renato Chicco, Monty Alexander, John Hicks, among countless others.
One of Roberta's most ardent supporters was the late Benny Carter, who had been her musical hero since childhood. After hearing Roberta on a CD, he arranged to meet Roberta in Los Angeles. So impressed was Benny with her musicality, that he took a personal interest in spreading the news to his friends and colleagues, even arranging some performances so she could be heard in Los Angeles. Being that Gambarini loved his music so much, he graciously agreed to make his compositions and arrangements available to her. Benny and Roberta continued close communication, and were actively planning some projects at the time of his passing at 95 years of age in July 2003.
The list of venues where she has performed is equally impressive: Multiple appearances at Monterey Jazz Festival, North Sea Jazz Festivals (Den Hague, Netherlands and Cape Town, So. Africa), JVC Jazz Festival (NYC, Umbria Jazz Fest. – Perugia, Italy); Lionel Hampton Jazz Festival – University of Idaho, Jazz Plaza Festival (Havana, Cuba , Teatro Nacional – Teatro Amadeo Roldan, Havana, Cuba Molde Jazz Fest – Molde, Norway, Bern Jazz Fest (Bern Switzerland), Conertgebouwe, Brugge, Belgium, Ton Halle – Zurich, Switzerland, Tanglewood and Berkshire Jazz Festivals, – Massachusettes, Jazz Festivals- Brescia, Italy, Catania, Italy, Cala Ganone, Sardinia, Teatro Manzoni – Milano, Italy, Victoria Hall – Geneva, Switzerland, Toronto, Canada – Murcia, pain, – Terrassa, Spain, – Clermont – Ferrand, France. – Odense, Denmark,- Linkopping, Sweden, Concertgebowe – Amsterdam,-Bimhuis, Amsterdam, Tchaikovski Hall-Moscow, among many others.
While performing at the Umbria Jazz Festival in Perugia, Italy, Roberta met Chucho Valdes who invited her to perform with him at the Havana Jazz Festival in December 2000, and again at the 2002 Festival. Since that first meeting, Chucho and Roberta have forged a striking rapport, while performing together in venues in the USA and abroad; New York City's The Jazz Gallery and most recently at the Jazz Festival in Manerbio, Italy, in November 2003, among others.