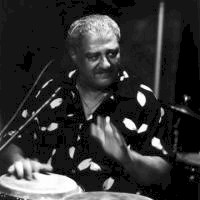 Artist Profile:
Ray Armando
It's hard to believe that someone with as much musical depth and history as Ray Armando has never released an album of his own. He has worked with some of the brightest stars in jazz and Latin music and is respected worldwide as an arranger and percussionist of the highest caliber.
Mallet Hands, his debut album for CuBop, is a long overdue labor of love that will surely put Armando on the map once and for all as a true treasure of the Latin jazz genre.
Born on January 27, 1939 in Brooklyn, the young Armando would listen closely to his father's Machito and Arsenio Rodriguez records and to the voice of his mother, a professional singer, dancer, and actress. While his dreams of becoming a baseball player were never realized, he did manage to become skilled on the conga drums at an early age.
"I got involved with Latin percussion through my uncle at the age of 8," he recalls. "My first real influence and teacher was Mongo Santamaria. He lived across the street from my family at that time." At the age of fifteen, he went on the road with Elmo Garcia's Big Band. After paying his dues with Garcia, he went on to work with the Mambo King himself, Tito Puente, with whom he would play at the legendary Palladium in New York City. After his stint with Puente, he continued his studies in percussion instruments and guitar compositions, delving into elements of harmony, theory and counterpoint.
"In between studies," he recalls, "I often free-lanced, which consequently gave me the opportunity to travel the globe. This included Europe, Japan, South America, and the Caribbean Islands. I became exposed to the different facets of music in various cultures. This enabled me to develop a new rhythmic concept that is both distinctive and unique." His expertise was put to use in playing with and/or arranging the works of such notables as João Gilberto, Antonio Carlos Jobim, Duke Ellington, Stan Getz, Freddie Hubbard, Donald Byrd, George Benson, Machito, Charlie & Eddie Palmieri, La Playa Sextet, Barry White, Nina Simone, Santana, Bobby Hutcherson, Kenny Burrell, Art Blakey, Dexter Gordon, Oliver Nelson, Lionel Hampton, Donny Hathaway, Sarah Vaughn, Richard "Groove" Holmes, Grant Green, Lou Donaldson, Cal Tjader, Gilberto Sextet, and many other notables. He has also participated in the creation of such classic scores as The French Connection, Bionic Woman, and Kung Fu, as well as working with Gato Barbieri on The Last Tango in Paris.
Mallet Hands is produced by the legendary Bobby Matos and features all original compositions with a stellar line-up of players, including Ben Clatworthy on tenor, George Griffin and Theo Sanders on piano, Eddie Resto on bass, Enzo Tolesco on drums, and Robertito Melendez and Jose "Papo" Rodriguez on bongos. Fans of CuBop labelmates John Santos and Marlon Simon will be pleased with this welcome addition to the growing stable of CuBop artists.