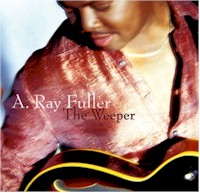 Artist Profile:
Ray Fuller
From a hard working teen on the scene in the `70s to A-list session player and world touring Guitarist/Musical Director in the present, Ray Fuller has earned the enviable title of the chosen few in his profession: that of "musician's musician." For three decades, Ray has been honing his skills in the service of some of the greatest, most diversified artists of all-time.
His resume includes legends Curtis Mayfield, Quincy Jones, The Staple Singers, Nancy Wilson and "Mr. Motown" himself, Berry Gordy. It also includes all-around musician/producers such as George Duke, Stanley Clarke, Kenneth "Babyface" Edmonds, David Foster and Mike Post. It includes vocal divas Dionne Warwick, Natalie Cole, Whitney Houston, Anita Baker and Oleta Adams. And it includes
Contemporary Gospel royalty The Winans, Kirk Franklin, Tramaine Hawkins and Yolanda Adams.
Ray was gently pushed into this more foreground position by several 'key' people who recognized his greater potential as a lead artist. One was Boney James' late artist manager Howard Lowell, who told Ray he envisioned him playing beautiful melodies. Peer saxophonist Everette Harp keenly elaborates, "Ray's ability to subtly emote through his guitar is merely an extension of his soul. With the exception of the late, great Eric Gale, I have never heard anyone play this style. And 'The Weeper' has taken it a step or two further."
Perhaps the biggest push came in 1997, in the form of some tough love from Ray's frequent employer and close friend, George Duke. When Ray asked him to produce some music for him, Duke said, "No, because you already know what you want. All of the choices that you make around for me are the same ones you need to go ahead and make for yourself."
The making of "The Weeper", his first album as a leader, is something Ray Fuller sums up with a tired but happy shrug as a challenging but much needed and appreciated "process." The sheer determination that Fuller had to finish this project in the face of ceaseless personal distractions is a shining testament to his commitment to seeing it through.
Ray worked his magic on two Motown classics. First there's "If You Really Love Me," a Stevie Wonder & Syreeta Wright composition from Wonder's1971 album Where I'm Coming From that is renowned for its dual tempo and ride and fall dynamics. Then from ten years later (1981) is singer/songwriter Teena Marie's "Portugese Love," a soulful Latin Jazz rendezvous of breathtaking romance. In both cases, Fuller tastefully tempers the dynamics and adds subtle nuances that will surprise and satisfy fans of the originals.