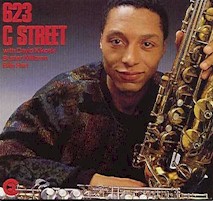 Artist Profile:
Ralph Moore
His exposure with Jay Leno's Tonight Show band has brought tenor saxophonist Ralph Moore right into our living rooms. Moore developed his mainstream chops through the Berklee College of Music in Boston and apprenticeships with Horace Silver, J.J. Johnson and others. His velvety smooth tone makes Moore readily accessible to the average listener and opens ears for the lively improvisation he espouses.
It is almost 20 years since John Coltrane died, yet his influence on the saxophonists of today continues to be potently pervasive. He shaped the sound of an entire generation of tenor and soprano players. Ralph Moore, the young man featured on this outstanding album, would certainly not discount the impact of Trane's playing on his own style. But Moore has steered clear of the pitfall of imitation. Tonally he is softer, and his improvisations brim with his own ideas. He comes from what might be termed mid-period Coltrane, but finds stimulating, new things to say within that general area.
Moore's rise to prominence in recent years dates back to untypical roots. He was born in London, England, on Christmas Eve, 1956 and grew up in a crowded inner city area. He evinced no particular musical interest until his mother bought him a trumpet when he was 13. Ralph studied with the late Alan Briggs, a local musician, in Brixton, and was soon sitting in with pub bands. Briggs had a tenor sax and Ralph fell in love with the look of the instrument. He soon made the switch and quickly mastered the saxophone.
In 1972 he moved to California to live with his American father, and graduated from Santa Maria High School where he played in the jazz orchestra and collected several music awards. In 1975 he enrolled at Berklee College of Music, and three years later received the Lenny Johnson Memorial Award for outstanding musicianship from the college.
He was launched on a professional career with a tour of Scandinavia, and later joined Frank Quintero for recording and a tour of South America. He moved to New York City in 1981 and within two months had joined the Horace Silver Quintet for an association that lasted four years and included tours of Europe and Japan.
Subsequently, Ralph has worked with the quartet of drummer Roy Haynes, Mingus Dynasty and, most recently, trumpeter Freddie Hubbard. In the summer of 1987 he was preparing for another extensive overseas tour with Dizzy Gillespie's Reunion Big Band. On record he has already been heard with guitarist Kevin Eubanks, pianist Bill Mays, trumpeter Valery Ponomarev, Silver, Hubbard and, perhaps most significantly, with trombonist Jimmy Knepper on Dream Dancing (Criss Cross 1024). He is also featured on the forthcoming Brian Lynch Sextet album (Criss Cross 1029).
Clearly, Criss Cross producer Gerry Teakens has much faith in Moore, of whom he says: "Ralph is not only a great tenor player but also a great person! I'm planning to do more records with him. He is the man to look for." This testimonial is justified by the mercurial music within this beautifully conceived and executed album, the result of another productive day at Rudy Van Gelder's Englewood Cliffs studio, scene of unabated good cooking since Ralph was a toddler.
Ralph Moore is a potent player, bursting with new thoughts and ever seeking original ways to express them. he belongs to the genuine tradition which he is busily extending on this intensely creative album. The man from Brixton is on his way.
"Ralph Moore has matured into one of the most satisfying and individual-sounding soloists performing today. He has his own sound and is instantly recognizable. In this era of cookie-cutter sameness, he really stands out."