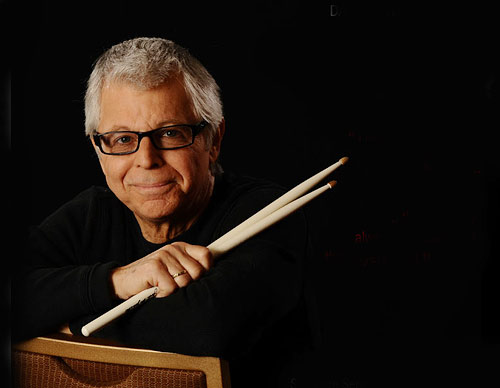 Artist Profile:
Ralph Humphrey
Ralph is a working professional drummer and teacher in Los Angeles. His background includes a variety of drumming experiences. His earlier work with the Don Ellis big band and Frank Zappa and the Mothers of Invention, among others, has given him the knowledge and expertise to speak, teach and write on the subject of rhythm and its application in modern drumming.
Ralph maintains a very active career in the recording industry, playing for a variety of motion picture and TV and record projects. Most recent productions include the hit show Americian Idol (2002-2004), American Jrs. (2003-2004), The Emmys (2002-2004), Star Trek Enterprise, The Simpsons, Charmed,
Family Guy, American Dad, etc.
His recording and touring career spans nearly 40 years and includes performing with jazz notables such as Wayne Shorter, Al Jarreau, Toshiko Akiyoshi and Lou Tabakin, Manhattan Transfer, Natalie Cole, Free Flight, Pete Christlieb, Joe Farrell, Tierney Sutton, Alphonso Johnson, Milcho Leviev, Alan Pasqua and an assortment of mainstream artists as well, including Seals and Crofts, Barbara Streisand, Jose Feliciano, Bette Midler, Captain and Tenille, Richard Carpenter, Rita Coolidge, etc.
Ralph is also currently involved in three music projects, one with guitarist Mike Miller, one with guitarist Jimmy Mahlis in a band called 'Babaghanoush' and a third with guitarist Prasanna Ramaswamy. All three projects feature Ralph in a very creative and challenging musical setting.
Ralph can be heard on Millers's recent release titled 'Save the Moon' on the Marsis Jazz label, and on the Babaghanoush release titled 'Aphrodite Moves On'. Prasanna's new CD is titled 'Be The Change' and features Alphonso Johnson, Antti Suzuki and Victor Wooten. It can be currently found on Prasanna's website at: www.guitarprasanna.com.
In addition to his performing career, Ralph teaches and heads the drum dept. at the prestigious Los Angeles Music Academy, an accredited one-year vocational school for drums, guitar, bass and vocals, located in Pasadena, Ca. He and long-time partner Joe Porcaro are the authors of drum curriculum at the school. which includes Playing Techniques, Jazz and Rock styles, Rhythm Studies and Ensemble Techniques. Before that, he and Joe were responsible for creating and designing the drum program for the Percussion Institute of Technology, a part of the Musicians Institute in Hollywood, Ca. Ralph taught the program and headed the department from 1980-1996.
Ralph is an occasional contributor to Modern Drummer magazine, Drum Magazine, and has authored a method book for drummers, published by Barnhouse in 1980 titled, 'Even in the Odds', which explores odd rhythms and meters. In additon, Remo, Inc. will soon include instructional materials on their website written by Ralph on the subject of Playing Techniques for the drumset. In addition, Ralph is currently working on a new book which will focus on rhythmic concepts and usage.
Ralph proudly endorses Yamaha drums, Zildjian cymbals, Remo drum heads and Vic Firth sticks. He continues to do periodic clinic tours, where he speaks about his vast musical experiences and shares his knowledge about rhythm, technique, styles and creativity.