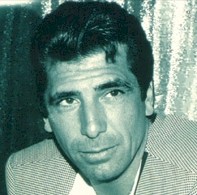 Artist Profile:
Pat Tuzzolino
Patrick Tuzzolino is a critically acclaimed vocalist, composer, pianist, guitarist and jazz producer. Most recently Tuzzolino played guitar and sang background vocals on Keely Smith's Swing, Swing, Swing CD and is a featured vocalist on Ray Anthony's big band CD The Swing Club.
He has performed and recorded with such jazz legends as Jon Hendrix, Joe Sample, Herbie Hancock, Carl Fontana, Sam Most, Sam Butera, Branford Marsalis, Sheryl Lee Ralph, the Count Basie Alumni Band, Stevie Wonder, Frankie Capp's Juggernaut Big Band and Sarah Vaughn.
Patrick has composed music and performed featured songs for many film and television productions including Guess Who (the recent remake of "Guess Who's Coming to Dinner" for Sony Pictures), Weapons of Mass Distraction – HBO, Stag, Tree's Lounge (Steve Buscemi, Director, MCA soundtrack album & film), Second Day of Xmas (ABC Films), Strays (Sundance dramatic competition, Vin Diesel, Director), I Think, I Do, Just In Time, Eight Days a Week and Fall (Eric Shaeffer, Director). Other credits include Teenage Bonnie and Klepto Clyde on HBO, Mr. Atlas, Death Wish Five, and New Attitudes on Fox. Patrick has also made live appearances on Terry Bradshaw's Home Team, UPN's Moesha with Sheryl Lee Ralph and King of Queens 2004-2005.
Patrick (S.A.G.) has acted in supporting roles for two episodes of The Fresh Prince of Bel Air, Blood Money with James Brolin, Billy Drago, Pistol Blues with Nick Cassevettes and the upcoming Sleepless.
Tuzzolino was a featured act at the 1997 Playboy Jazz Festival with the legendary Sam Most and Carl Saunders. He is currently performing in the Los Angeles area with this band.
Tuzzolino has sung and created musical arrangements for many recent nationally televised commercials including Nike, Miller Lite, Bud Lite, Skintimates, Cheetos, UPS, Blue Cross/Blue Shield, E-Bay, Lexus and many others.
Patricks has also been a regular performer at many top nightclubs in Los Angeles, New York, Toronto and Las Vegas. Patrick Tuzzolino is an accomplished musician who is equally at home behind a keyboard or a guitar, or a vocal mic. Performing all over the place with his setup of piano for his right hand, bass synthesizer for his left hand and a microphone for his crooning smooth voice, he plays often with Sam Most on woodwinds and Frank Capp on drums.
Patrick's standout vocals can be heard on numerous national commercials and soundtracks, and he is a strong crowd favorite as he really loves to perform for his devoted audience.