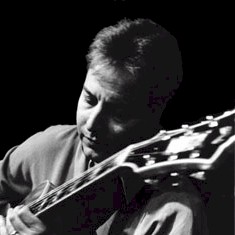 Artist Profile:
Pat Kelley
Guitarist Pat Kelley has recorded eight CD's as a leader, toured in more than thirty countries, worked as a Los Angeles studio guitarist on hundreds of sessions for records, television, commercials, and motion pictures, and composed more than a hundred songs that have been commercially recorded.
Pat has performed with George Benson, Tom Scott, David Benoit, Dave Brubeck, John Pisano, Herb Ellis, Rick Braun, Jeff Lorber, Richard Elliot, Dave Koz, Al Jarreau, Nickel Creek, B. B. King, Ronnie Laws, Hubert Laws, Jose Feliciano, Eric Marienthal, Olivia Newton John, Stix Hooper, Randy Crawford, Melissa Manchester, and Burt Bacharach.
He was the house guitarist for several years on the Merv Griffin, Pat Sajak, Joan Rivers, and Carol Burnette television shows and has performed with symphony orchestras in San Francisco, San Diego, Houston, Atlanta, Tulsa, Denver, San Antonio, and Toledo.
In 2002, Pat founded the Artsong Music CD label releasing four CDs to date.
In June 2003, Pat was inducted into the Oklahoma Jazz Hall of Fame, being honored by his home state, in his hometown of Tulsa. Other past inductees have included Charlie Christian, Chet Baker, Barney Kessel, Oscar Pettiford, and Lester Young.
Currently Pat holds a full time teaching position in the Studio/Jazz Guitar Department at the University of Southern California and is also an active guitarist, songwriter, producer, and engineer.