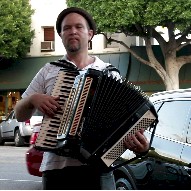 Artist Profile:
Mike Bolger
Mike has quite a bit of experience playing piano, along with the trumpet, trombone, and acordion. Michael Bolger's musical career can be summed up in one word: diversity. His skills as a multi-instrumentalist on a varied assortment of brass and keyboard instruments are matched by his stylistic diversity, which he is able to take full advantage of in Mostly Kosher!
Michael was born and raised in Los Angeles. He fell in love with music at a young age and pursued study at UCLA and Cal Arts, earning a BFA in jazz trumpet in 1997. Since graduating, Michael's career has blossomed to include a long list of accolades and recording credits including Jewel, Red Hot Chili Peppers, Ry Cooder, Jimmy Cliff and the ubiquitous television cartoon Spongebob Squarepants for he which received the 2013 BMI TV Music Award.
He can be heard performing trumpet, valve trombone, sousaphone and jazz organ in a wide variety of Los Angeles ensembles. Michael has also served as a teacher at the Silverlake Conservatory of Music since its beginning in 2001.