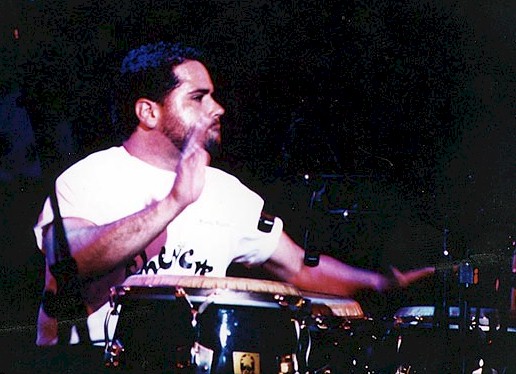 Artist Profile:
Michito Sanchez
Michito Sanchez will never forget the day he was called to supply percussion in sessions with both Crosby, Stills & Nash and Elton John. Naturally all days cannot be as auspicious, but one such as that is an indication of the caliber of musicianship Sanchez has become known for. There have been countless musical highlights — the Rolling Stones, Don Was, Bruce Hornsby, Robert Palmer, Herbie Hancock, Placido Domingo, Luis Miguel, Glenn Frey and an endless list of sessions, videos and live performances in every genre of music.
Such success was the dream for the kid growing up in New Jersey. While the family jam sessions during the snowy nights were rough around the edges, music seeped into the blood of this boy. As a first generation born American of Cuban parentage, bongos were a constant fixture in the Sanchez household and between those and the pots and pans, the youngster was able to cut his early musical teeth. Then after attending some bata and rumba jam sessions, Michito was hooked.
"When I saw the real cats playing, it freaked me out," he recalls, referring to Patato and Totico, Cachete, Julito Collazo and Little Ray Romero.
The family moved to California as Michito began his sophmore year in high school. Musically, it was a turning point for the boy whose music teacher, Ken Smith, happened to be a drummer. Aside from learning how to read music and playing in the South Gate High School marching band and jazz band, as well as the All City Marching Band, the creative freedom Smith allowed his student influenced Sanchez's entire approach to drums and percussion.
"I would get bored with the sticks and I'd say, "I can do all this double stroke stuff and rudiments with my hands," Michito explains. "That's where my style came from, so I really owe a lot to my teacher for turning me on to stick control."
At the same time, Sanchez benefitted by private lessons with Rolito Soto, formerly of the Cuban band Rumbavana, considered by many as an institution in modern Cuban music. As one of Cuba's best bongoceros, Soto not only worked with Sanchez on percussive technique, but he addressed the more practical issues as well.
"We went through everything," Sanchez recalls, "even how you place bongos between your legs when you play and what kind of shoes and socks to wear. When you play bongos, you're sitting down, so your pants are higher and people see your socks and shoes. You don't want to be on the stage with funky socks and shoes, do you?" he
says with a laugh.
When Sanchez enrolled in Los Angeles City College, his father knew he was serious about music as a profession. He had hoped for a more secure profession for his son, but that opinion never effected Michito's burning desire to play music or his commitment to excel at it. For two years, he played salsa five nights a week at a nightclub, slept three hours and arose at 6:00 a.m. to take the bus to college each morning. Although it was tough, he says, "I wouldn't change that time for the world."
While attending the Dick Grove School of Music, he received a call from Devauhn Pershing, Nel Carter's musical director whom he had met while subbing on another gig. He joined her band at 22, and was thrilled to be making a living playing music and experiencing his first encounter with life on tour.
"I learned how to play show tunes and how, while you're still playing one tune, you must be looking to the next chart which is about to start any second. It was great working with dancers and being exposed to their lingo and it was a learning experience just on how to be on the road, how to deal with hotels, people, etc."
As soon as the job ended after two years, the phone began to ring. Sanchez had already earned a sterling reputation that would employ him with local bands such as Claire Fischer, Rudy Regalado & Chevere, The L.A. Salsa Society Orchestra, Bongologic and Cecilia Noel & the Wild Clams. At the same time, he toured for eight years with John Denver alongside Elvis' rhythm section, guitarist James Burton and bassist Jerry Scheff. When he left Denver in the spring of 1990, it was to join Crosby, Stills & Nash.
There have been so many memorable situations like a recent Don Was drumless project where he worked beside Herbie Hancock and percussionists Shiela E., Lenny Castro, Mike Fisher, Curt Bisquera and Was on bass. For the most part, the challenge remains choosing the proper instrumentation to provide the right sound and texture to complement the music. Oftentimes, he's the last ingredient to be added to the musical pot and it's his ability to choose just the right seasoning that completes the project.
But a great percussionist never thinks just about his part. Even though the part may consist only of a strike of a cowbell or a groove on a shaker, Sanchez is contemplating the whole musical picture. "I love drums and percussion, but it's really music I love," he states.
He knows he's one of the fortunate few who gets to make a living playing music and he never takes that privilege for granted. "Every call to play — from club dates to recording sessions — is a unique experience and a blessing, one I look forward to," says Michito, who has enjoyed working with such artists as Kenny Loggins, Boz Scaggs, Joe Sample, Herb Alpert, Hanson, Chucho Valdez, Tito Puente, T-Bone Burnett, Joe Zawinul, Elvis Costello, Toni Braxton and Steve Winwood. Sanchez is a full member of Caravana Cubana, nominated for a Grammy in 2001 in the catagory of Best Traditional Tropical Latin Performance for their debut album Late Night Sessions.
In 2002 Michito was part of the Raul Malo (lead singer of the Mavericks) solo project. At the same time he was asked by Boney James to join his touring band. Michito toured with Boney from April thru September. During that time, he was also able to work on record projects for Flora Purim, Tommy Walker, Fernando Ortega and several others. He also performed at the Latin grammy's with Nelly Furtado & Juanes (Grammy Award Winner for Song and Artist of the Year) and the Country Music Awards with Brooks & Dunn. In August he received a call from Japan asking him to join Iekichi Yazawa (the Mick Jagger of Japan) touring band. He toured Japan extensively with Yazawa thru December.
In 2003, although a relatively slow touring year, Michito had some great experiences. He worked on several different record projects including; Airto Moreira new solo CD along side with the great conguero Giovanni Hildalgo, Eric Benet, and Angelique Kidjo. He also kept busy performing live with artist, Bill Cantos & Mary Falcone, Doc Sevrinsen, Nestor Torres, Rick Trevino, David Garfield, Jose Rizo's Jazz on the Latin Side All Stars and several contemporary christian artist including Darlene Zschech, Tom Brook, Lenny Leblanc, Tommy Commes (Franklin Graham Praise Band,) Andre Crouch, and of course Tommy Walker of his home church, Christian Assembly in Eagle Rock, CA. His plate is full, but he never complains about too much work — it's what makes him tick.
"As long as I am playing music, I am happy," he says.