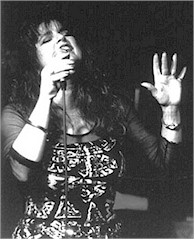 Artist Profile:
Michele Lundeen
Michele Lundeen is turning up the heat. See her on stage for even a nanosecond and you'll see the way she throws herself into her music. It's easy to see why she's been dubbed the Queen of Steam.
Michele grew up in Oakland and immediately was attracted to the take charge sound of gospel. Soon, she was identifying with soulsters such as Aretha Franklin, James Brown, Tina Turner and Little Richard. With the power of music in her soul, she has spent most of her
adult life trying to communicate her feelings to audiences.
She moved to Reno in the early '80s and relocated to San Diego last year, where she's found a new audience. "I'm honestly moved by my experiences enough to shout them from the rooftops, she says. I'm telling/singing my story from my heart not my soul … I feel it and believe it and know that people want me to tell them my story because they can relate. I try and help them release those feelings and emotions. It's all about the honest emotions."
Soulful and gutsy, Michele has opened shows for John Lee Hooker, Roy Rogers & the Delta Rhythm Kings, Charlie Musselwhite, Elvin Bishop and Joe Louis Walker & the Bosstalkers among others. Now, she's letting the world in on her story.