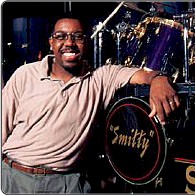 Artist Profile:
Marvin 'Smitty' Smith
Born and raised in Waukegan, Illinois, Smitty's earliest musical influences included traditional Jazz, American folk, East Indian music, African music, and Soul. After attending Berklee College of Music in Boston, Smitty moved to New York City in 1981.
Since that time he has performed with Branford Marsalis, Terance Blanchard, Donald Harrison and Sting among many others. Smitty is currently the house drummer for NBC's Tonight Show Band.
"It was a very natural inclination for me to play drums," says Marvin "Smitty" Smith. A glance at his early life validates that truth. Born the son of a drummer, Marvin, Sr., was always surrounded by music in the house.
At six months old, he would climb up on the large lounge chair positioned directly in front of his father's drum set and would watch him practice, intensely. Whenever his father took a break, he would crawl over and press the foot pedals and attempt to emulate his dad. That experience, and banging on pots and pans, was the extent of his playing until he began formal training at the age of three.
Today, Marvin "Smitty" Smith is a young musician extraordinaire whose work has been described as a "comment on invention, firm and adventurous time and technical sufficiency." He has traveled extensively throughout the Orient, Europe, and the continental USA; and he has shared the stage with such greats as Sonny Rollins, Hank Jones, Frank Foster and Frank Wess, Art Farmer, Benny Golson, Slide Hampton, and Milt Jackson. He is a former member of the Ron Carter Quartet, The New York Jazz Quartet, and The Art Farmer/Benny Golson Jazztet.
Featured on more than 45 albums, additional performances and recordings augmented with Terence Blanchard and Donald Harrison, Ray Brown and Phineas Newborn, George Shearing, Bobby Watson, Hamiet Bluiett, Branford Marsalis, David Murray, Emily Remler, Peter Leicht, Kevin Eubanks, Donald Byrd, Monty Alexander, Diane Reeves, Michel Camilo, and Grover Washington Jr. Currently he's a member of Steve Coleman's Five Elements, and The Dave Holland Quartet. Smitty conducts seminars and clinics for students in jazz workshops, both in the United States and Europe; and is currently on staff of jazz program at the Banff Centre of Fine Arts, Canada, and Drummers Collective, New York City.
Smitty has been Downbeat Critics' Poll winner for Talent Deserving Wider Recognition, 1985 through 1987, and 1989. Smitty performed on the Soundtrack of filmaker Spike Lee's "School Daze", appeared in Sonny Rollins' music video "Saxophone Colossus", and a member of Sting's "Nothing Like the Sun" South American tour, 1987.
Regarded as a well rounded musician with the ability to play all styles, Marvin "Smitty" Smith is a blossoming composer and arranger, and his success has earned him two albums as a bandleader. As a versitile drummer, there seems to be nothing be cannot do. It's been said that he is the "John Coltrane of the drums.."
DISCOGRAPHY

The Road Less Traveled – Concord Jazz
Keeper of the Drums – Concord Jazz
Breakin' Out – George Shearing, Concord Jazz
Portraits & Dedications – Peter Leitch, Criss Cross
Then and Now – Grover Washington Jr., Columbia
Rejuvenate – Ralph Moore, Criss Cross
The Razor's Edge – Dave Holland, ECM
Sine Die – Steve Coleman, Pangaea
Dancing in the Dark – Sonny Rollins, Milestone