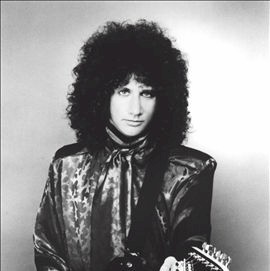 Artist Profile:
Jeff Paris
Although Jeff plays a jaw dropping array of instruments and songwriting genres, it's singing that's at the root of his musicianship – It has been the prime touchstone of Jeff's musicality since birth.
"My first memories as a baby were hearing my parents singing and by the time I was two I could've done a 30 minute set of standards. "In the Still of the Night", "Three Coins In the Fountain," "You Gotta Have Heart," and all the songs from "South Pacific" and "Pal Joey." They taped me on a Revere reel to reel …I still have the tape!"
It didn't hurt that the family lived in an apartment below that of Frank Sinatra composer pal Jimmy Van Heusen. Jeff's mother told him: "My god, Jimmy kept us up all hours of the night banging on the piano. Then Sinatra would come by with an entourage around 2am and the drinking and partying would start."
Folk singer / guitarist / teacher Irene Naftulin taught Jeff to play and sing in group lessons, and forever impressed on him the concept of filtering instrumental performance through the voice. In other words, "sing through your instrument." Later, classical piano teacher Eloise Reeves advised him "bring everything you know about the piece you're performing to bear on each moment you perform."
"Use ALL of your knowledge, Jeff."
Subsequently Jeff explored every style through every instrument he could get his hands on – – Nat Cole, Sinatra, USA '60's pop, British Ivasion rock, The Coasters, Cream, Hendryx, Free, Edgar Winter, Stevie Wonder, Donny Hathaway, BB King, Motown, Memphis and Philly soul, post bop Miles Davis and Herbie Hancock, and array of multicultural explorations. JP adds a new layer every year.
After studying at Los Angeles City College's Music Department til he was nineteen, he began to develop his songwriting. Early cuts recorded by Tower of Power and Marilyn Scott brought Jeff to the attention of United Artist Records. Following more tours he was signed to that label as part of the R&B band "Pieces," contributing most of the material to the 1979 release of "Pieces". He became a staff songwriter for Special Music Publishing and in 1980 his songs were covered by Jeffrey Osborne. In 1984 Jeff was signed to PolyGram/Mercury and he released two albums over the next three years while simultaneously writing songs cut by Lita Ford, Y&T, Alias, Vixen, and Mr. Big. Subsequently he quit touring and spent the rest of the 80s and 90s as a sort of "Song Whisperer" working with both R&B and Rock artists til 2000, when he started his twelve year tenure touring, recording and songwriting with three time Grammy winning Contemporary Blues artist Keb Mo.
Jeff continues to explore songwriting and "song whispering" for artists in the throes of writers block, and teaches singing full time. "It's a 'calling.' I have a unique opportunity to pass on the training I received from my coach, Ron Anderson, and also my experience as a touring singer."
Touring / & Sideman Gigs:
1976 Bill Withers / Tour & session musician on"Naked & Warm" album / CBS/ Keys, Guitar, Vocals
1976 Dorothy Moore / "Misty Blue" promo gigs / Hammond B3
1977 Dan Fogelberg / "Netherlands" tour / Keys, Vocals
1978 Bill Quateman / "Night After Night Tour" / Keys, Vocals
1980 Frankie Valli & 4 Seasons / summer tour, live record / Piano
1981 Clarke/Duke Project / "Sweet Baby" Tour / Keys, Guitar, Vocals
1982 A Taste of Honey / "Ladies of the Eighties" Tour / Keys & Vocals
2000-2012 Keb Mo / Touring, Recording, Co-songwriting / Keys, Guitar, Mandolin, Accordion, Vocals
2007 Dave Stewart (Eurythmics) / Concerts EU / Keys, B3, Mandolin, Vocals
2008 Ringo Starr / "Liverpool 8" Promo Tour / Keys