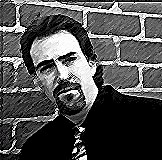 Artist Profile:
Jason Harnell
Jason Harnell toured the United States, Europe, Australia, and the Orient with Maynard Ferguson as a member of his Big Bop Nouveau band. Recorded CD with Maynard entitled "These Cats Can Swing" on Concord Jazz Records, released in 1994. (1992-1994)
Toured the United States and Japan with contemporary jazz recording artist, Keiko Matsui. Recorded live performance video with Keiko entitled "Light Above the Trees," also appeared on Black Entertainment Television's Jazz Central and on PBS' Live Performances. (1997-1999)
Currently performing in and around Los Angeles with such artists as Ron Stout, David Goldblatt, Steve Cotter, Darek Oles, Kei Akagi, Jack Sheldon, Tamir Hendelman, and Steve Tavaglione as well as leading two groups of his own; one with Larry Koonse and Joe Bagg, the other with Matt Otto and Jamie Rosenn.
Recent CD recordings include Matt Otto Quartet: Intellection, Lulee Fisher: Get Happy, and Steve Venz: Scoop. Other recordings include a national Verizon commercial (composed and performed), a national Cheeto's spot and music for the cartoon "Chalk Zone".
Hosted clinics and workshops all over the world with Maynard Ferguson. Instructed and arranged for high school drumline and percussion ensemble as well as for drum corps. Have been teaching privately since 1987. Currently seeing between ten and fifteen students a week.
Studied privately with Hank Belson, Vinnie Colaiuta, Tom Glaister, Larry Goldings, Jeff Hamilton, John Hernandez, Joe LaBarbera, Shelly Manne, Bob McCormick, Joe Porcaro, Wally Snow, Dave Weckl, and Dick Wilson.
Endorsements: Currently endorsing Yamaha Drums, Bosphorus Cymbals, Remo Drumheads, Vic Firth Drumsticks and Rhythm Tech Percussion Products. Have been profiled in several nationwide publications such as Modern Drummer Magazine, DRUM Magazine, and National Drum Association.