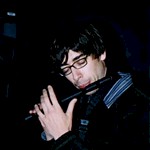 Artist Profile:
Jason Mears
JASON MEARS, from Alaska, is a saxophonist, clarinetist, composer, improviser, and educator who is currently living just outside of Tokyo, Japan. He holds a BFA in Music Education from Boston University and a MFA in African-American Improvisational Music from California Institute of the Arts, and has studied with Wadada Leo Smith, Leroy Jenkins, Harvey Pittel, Paul Novros, Donald Sinta, John Sampen, and Vinny Golia.
Jason's most recent projects include the Empty Cage Quartet (MTKJ), Harris Eisenstadt's The Soul and Gone, Vinny Golia's Music for Like Instruments (the Eb saxophones), The Vinny Golia Large Ensemble, the Jeff Kaiser Ockodektet, and the Kreative Orchestra of Los Angeles (KOLA) – an 11-piece ensemble he initiated along with drummer/composer Harris Eisenstadt which "functions as a mobile laboratory for some of L.A.'s musical masterminds to publicly swap experimental compositions and performances" (Rex Butters, All About Jazz Los Angeles).
Jason has made frequent interdisciplinary collaborations with filmmaker Allen Glass and dancer Miyuki Kobayashi, and has performed with Wadada Leo Smith, Frank Gratkowski, Phillip Greenlief, Jack Wright, Leroy Jenkins, Mark Trayle, Michael Vlatkovich, Jeb Bishop, Jason Roebke, Jeff Parker, Steuart Liebig, Harris Eisenstadt, and Damon Smith. He has recorded on the Nine Winds, 482, and pfMENTUM labels.