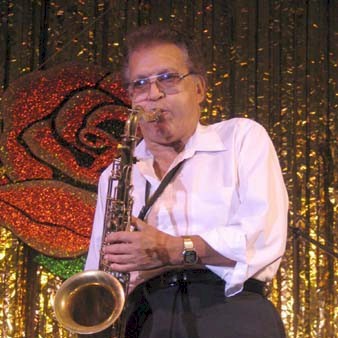 Artist Profile:
Gil Bernal
Gil Bernal, a tenor saxophonist who during his long career played a variety of styles with artists such as Spike Jones, Lionel Hampton and Ry Cooder, has died. He was 80. Bernal died of congestive heart failure July 17 at Glendale Adventist Medical Center, his family said. Adept at playing pop, jazz or blues, Bernal sang and played with Hampton's big band and had memorable sax parts on such 1950s songs as Duane Eddy's "Rebel Rouser" and the Robins' "Smokey Joe's Cafe." "Smokey Joe's Cafe" was written by Jerry Leiber and Mike Stoller, who also wrote "Jailhouse Rock" for Elvis Presley and many other hit songs.
Bernal had met Stoller in the early 1950s when they were students at Los Angeles City College. Leiber and Stoller, who also were producers, hired Bernal to play on several of their early songs.
Bernal "could take eight bars and make it very exciting in a middle of a vocal performance," Stoller told The Times this week. "He lifted it at that moment." Bernal was born Feb. 4, 1931, in Watts to a Mexican mother and Sicilian father and grew up in an area rich with musicians, including Buddy Collette, Big Jay McNeely and Charles Mingus.
"I think my real roots were with the black style of playing, the black musicians," Bernal said in "Land of a Thousand Dances: Chicano Rock 'n' Roll from Southern California" by David Reyes and Tom Waldman. "I felt there was more soul, more energy in that music. I like the sound, the attack, that's the way I played."
After graduating from high school in 1948, Bernal played with a 10-piece band, then got an interview with Hampton, who hired Bernal as a singer. He left Hampton's band in the early 1950s. After playing with his own group, Bernal worked for six years with Jones, the bandleader who mixed music with humor. Bernal worked on a number of projects with Cooder, including overdubs on "Buena Vista Social Club," the 1997 recording of veteran Cuban musicians.
Bernal also played on Cooder's "Chavez Ravine," a 2005 concept album about an earlier era in Los Angeles, including a version of Leiber and Stoller's "Three Cool Cats." "When he plays, it's the real thing," Cooder told The Times.